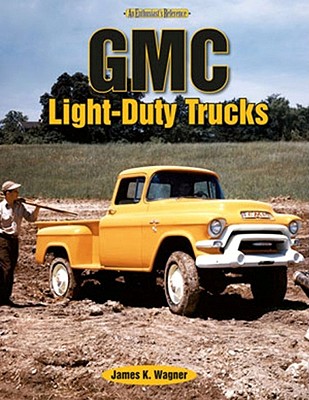 GMC Light-Duty Trucks (Paperback)
An Enthusiast's Reference
Enthusiast Books, 9781583881910, 128pp.
Publication Date: June 1, 2007
* Individual store prices may vary.
Description
Appealing to both historians and enthusiasts GMC Light Duty Trucks is a chronological overview of the popular General Motors vehicles that have been long considered Pontiac's trucks. It begins by tracing their roots to the year 1902 and origins as the long-departed Rapid and Reliance brands. The story continues with the pair joining an emergent General Motors and 1912 consolidation as GMC. A discussion of significant early milestones follows: Model 15 of 1914 the first "true" GMC; the role of GMC's military vehicles during the First World War; and, the impact of General Motors' acquiring Yellow Cab Manufacturing Company, which it merged with General Motors Truck Company and led to the wide range of GMC light duties when Yellowcab trucks, the Pontiac Delivery and Chevrolet Commercial Bodies were integrated into the evolving GMC line. Next the important middle years are reviewed, highlighting effects of GM's corporate styling leadership on GMC; the offering expansion of the immediate pre-World War II era that brought several distinctive types to the line-up; the all-new 1939 model light truck engine, cab and bodies; contributions to the Second World War allied military effort; and, the birth of GMC Truck & Coach Division. The major postwar styling and functional redesigns of 1947 and 1955 are covered in detail along with the arrival of civilian 4x4 pickups and, in particular, the ambitious Breakthrough Engineering efforts for 1960, culminating in the V-6 engine program that marked the high tide of GMC uniqueness. The book concludes by summarizing the past three decades when a broadening diversity of added models-sport utilities, diesels, full-size and mini vans, multi-purpose vehicles, and compact and mid-size pickups contributed to a massive growth in customer acceptance.
About the Author
James K. Wagner brings to this effort nearly a lifetime interest in motor vehicle evolution.  Since immediately after World War II he has observed the automotive industry, particularly that of North America, with increasing sophistication.  As a practicing product engineer he had a 37-year career in the automotive industry, most of which was focused on trucks.  Wagner has also written two books on truck product history and co-authored two additional volumes, one relating to passenger cars the other to a major industry manufacturer as well as several vehicle-oriented magazine articles.  He has made presentations to numerous collector-car/truck groups; for many years has been a narrator for a well-known mid-western vintage vehicle event; is the commercial vehicle technical advisor for a marque-specific automotive restorers club; is a member of The Society of Automotive Historians; and, has been a charter member of the SAE History Committee.
or
Not Currently Available for Direct Purchase