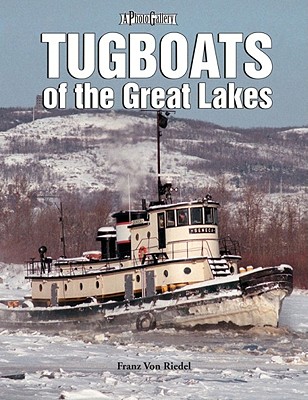 Tugboats of the Great Lakes (Paperback)
A Photo Gallery
Enthusiast Books, 9781583881927, 160pp.
Publication Date: June 1, 2007
* Individual store prices may vary.
Description
From the early days of commercial navigation on the waterways of the Great Lakes, tugboats have been needed to guide the ships in and out of the newly constructed ports. As the means of transportation progressed from wooden schooners to large steel steamships, the tugboat also grew in size.

This book takes an in-depth look into the ancient practices of Great Lakes ice-breaking, ship-assistance and towing. At the turn of the century, the towing industry changed forever with the consolidation of fleets and the design of the low-profile powerful steam ship-docking tug. This "G-Tug" design has become known all around the world and these same 80-year old tugs are still the primary workhorse in most harbors on the Lakes today. Many other designs, unique to the fresh waters of the Great Lakes are profiled in this book.

The severe climate of the Great Lakes region is brutal on the equipment and the tugs are built tough, for heavy ice breaking. A new class of powerful Coast Guard ice-breaking tugs came out in the 1940s. Today, many of these "WYTM" class tugs survive in commercial service on the Lakes. The Lakes have always been home to a large fleet of U.S. Army Corps of Engineers tugs.

Additionally, U.S. Army auctions have brought many government-class tugs such as LTs, STs, and DPCs to the Lakes in the hands of private and commercial operators. In the rivers that feed the busy port of Chicago and all throughout New York State on the Erie Canal, a rare species of tug can be found-the famous "canallers" which are also featured in this volume.
About the Author
Capt. Franz Von Riedel has spent his life persistently documenting the complex histories of the commercial vessels in the maritime industry. Upon graduation from high school, Franz spent five years as conductor on an iron ore railroad in Northern Minnesota. From 1997–2000, he restored and operated the Marine Trader, the last commercial bumboat in North America. In 2001, Franz formed the Zenith Tugboat Company, which today owns and operates seven towing vessels. He founded the Northeastern Maritime Historical Foundation in 2002, which has become one of the prime contributors to the preservation of the towing industry, in its history and the vessels themselves. Besides his time-consuming business interests centered around the maritime industry, Franz is an avid industrial photographer and has had thousands of images published throughout the United States and Europe. Franz also writes the "News from North America" feature in the bi-monthly international publication Lekko.
or
Not Currently Available for Direct Purchase