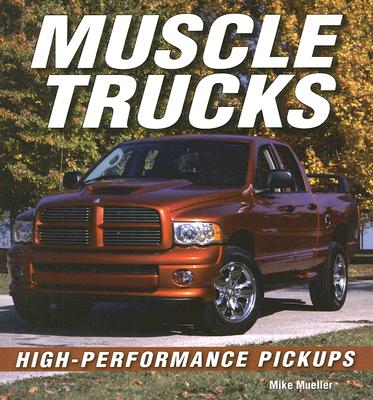 Muscle Trucks
High-Performance Pickups
Paperback

* Individual store prices may vary.
Description
The American pickup has always been known for its hard-working, easy handling nature, but have mainly served the purpose of being  a light workhorse. As pickups became more mainstream through time, a niche of trucks were created with high-performance in mind. Trucks like Chevrolet's SSR and Ford's SVT Lightining are familiar today, but let's not forget GMC's Syclone of the Nineties and Dodge's Li'l Red Truck of 1978-79. Dubbed as Muscle Trucks (in connection to Muscle Cars), the roots of these prestigious pickups go back to 1955, when Chevrolet introduced the Cameo Carrier. While not a hot rod, the Cameo was super cool and it proved that customers would buy a truck that could play as well as work. Ford then followed with its crossover pioneer, the Ranchero, which was half car, half truck. The Ranchero inspired Chevrolet's El Camino, and both of these hybrids featured high-performance variations before all was said and done. This book honors all the hot trucks, then and now, with a selection of outstanding color photography detailing these high-performance haulers inside and out. Among others, photo subjects include the Chevy SS 454, SS 396 and SS 454 El Camino, Cobra Jet Ranchero, GMC Syclone, Chevy SSR, Ford SVT Lighting, Dodge SRT-10, the Li'l Red Truck, and the new Dodge Hemi Rams.
Enthusiast Books, 9781583881972, 96pp.
Publication Date: August 14, 2007
About the Author
Mike Mueller has worked as an automotive photojournalist since 1991. A lifetime car enthusiast, Mueller has written and photographed more than 30 automotive and truck history books and contributed photography to at least that many more. His byline has appeared in countless magazines over the years, including Vette and Corvette Fever. Among his long list of titles are Motorbooks' Chevy Chevelle 50 Years, The Complete Book of Classic Dodge and Plymouth Muscle, Camaro: 50 Years of Chevy Performance, and The Complete Book of Ford Mustang.