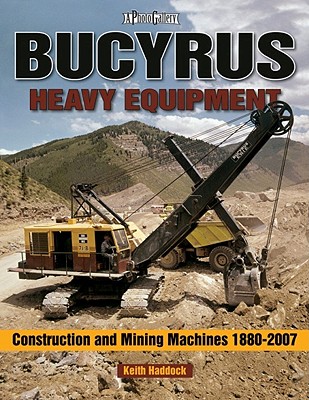 Bucyrus Heavy Equipment (Paperback)
Construction and Mining Machines 1880-2007 (A Photo Gallery)
Enthusiast Books, 9781583882191, 224pp.
Publication Date: November 1, 2008
* Individual store prices may vary.
Description
Bucyrus-Erie Company is a name synonymous with moving the earth.  From the smallest loader-backhoe to some of the largest machines ever to move on land, no other company has produced such a wide variety of types and sizes of excavating equipment.  With a rich heritage going back 128 years the company, now known as Bucyrus International Inc., is still designing and building some of the world's largest shovels and walking draglines.  Nothing could be more apt to describe this manufacturing power house than its slogan used in the 1960s "The Longest Line on Earth". Over 450 spectacular black and white photos combined with detailed captions chronicle and describe all the major equipment product lines from Bucyrus Company, Erie Steam Shovel, Bucyrus-Erie and Ruston-Bucyrus.  Every machine model from the extensive lines of cable excavators, hydraulic excavators, walking draglines, stripping shovels and drills is included, plus tables of machine introductions and production.  There's also detailed coverage of floating dredges, tractor equipment, cranes, bucket wheel excavators and other special machines.  This book is sure to satisfy the serious equipment historian as well as the enthusiast.
About the Author
Keith Haddock, a professional engineer, has enjoyed a lifelong involvement with earthmoving and heavy equipment. Just over 20 years ago Haddock co-founded the Historical Construction Equipment Association (HCEA) that now boasts more than 5,000 members. He has written several books on heavy equipment and has been featured in numerous TV documentaries including Modern Marvels, Monster Machines and Mega Excavators. He currently specializes in providing information, research, and freelance writing for earthmoving and surface mining publications.
or
Not Currently Available for Direct Purchase