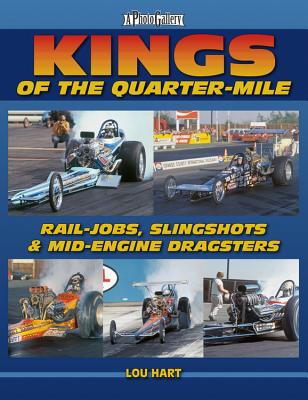 Kings of the Quarter-Mile (Paperback)
Rail-Jobs, Slingshots & Mid-Engine Dragsters (A Photo Gallery)
Enthusiast Books, 9781583882344, 160pp.
Publication Date: June 15, 2009
* Individual store prices may vary.
Description
When our young heroes began returning from World War II, they applied the knowledge gained from Uncle Sam towards the fledgling hot rod movement. While speeds increased, rodders learned the hard way just how dangerous it was to "drag it out" on the city streets. In the mid '50s, organized drag racing gave hot rodders a safe place to race. Cars evolved from pre-war coupes and sedans to crude "rail jobs," which were stripped and narrowed frame rails with nothing more than an engine, driveline, seat, and steering gear. As hot rodders were the true Mothers of Invention, the cars later became hand-made, finely crafted "Slingshot Dragsters." Dubbed the "Kings of the Sport," these supercharged, fuel-injected Slingshots burned exotic fuels and captured the attention of every young enthusiast from coast to coast. The cars dazzled with gleaming chrome, Candy Apple, Pearlescent, and Metalflake® paint jobs, while the nitromethane fuel produced an unforgettable thunderous sound. This new volume contains all the stars that waged war on quarter-mile strips of asphalt from California to Maine. It's a vivid pictorial display that captures the true essence of extreme acceleration in all its glory.
About the Author
Lou Hart has been covering the sport of drag racing for over 30 years. He started going to the drag strips in the heyday of drag racing with his camera and has collected a large amount of vintage drag racing photography. He has written numerous books in the subject of drag racing.
or
Not Currently Available for Direct Purchase