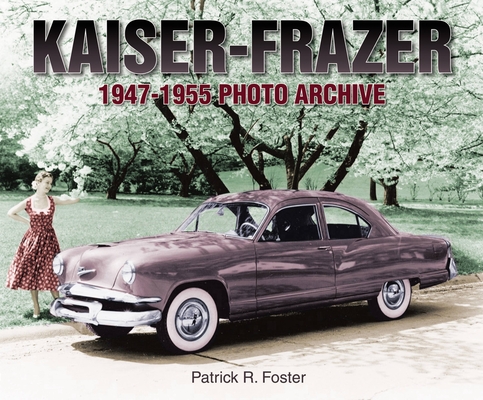 Kaiser-Frazer 1947-1955 Photo Archive
Paperback

* Individual store prices may vary.
Description
It was like a marriage made in heaven, the coming together of two great minds to create an all-new car. Henry J Kaiser and Joseph Washington Frazer, strong-willed men of vision, boldly decided to take on America's Big Three automakers. Hoping to position their Kaiser-Frazer Corporation in the big leagues of auto manufacturers they would launch a radical new car to capture the public's imagination and produce it in unheard-of quantities. The cars were an immediate hit. Thousands lined up to see and buy the new Kaiser and Frazer cars. In time K-F introduced hardtops, sedans, convertibles, an impressive fiberglass sports car and a line of low-priced compact cars. But competition eventually proved overwhelming and Kaiser-Frazer production ended in the US, though Kaiser cars continued to be built in South America into the 1960s. This new book by veteran auto writer Patrick Foster—America's spokesman for independent brand cars—tells the full story of Kaiser-Frazer's struggle to succeed in an industry that killed so many competitors. Heartbreaking yet uplifting, it is an allegory of men and automobiles during perhaps the most exciting era the industry has ever known.
Enthusiast Books, 9781583882399, 128pp.
Publication Date: June 15, 2009
About the Author
One of America's best-known automotive writers, Patrick R. Foster has spent over 30 years studying the automotive industry. The leading authority on AMC and its predecessors, Pat has written several books on that subject along with many others, including Jeep, Studebaker, Hudson, Kaiser-Frazer, and Metropolitan. His popular columns appear in Hemmings Classic Car and Old Cars Weekly, and he has won awards for his books and articles from the AACA (Antique Automobile Club of America) and SAH (Society of Automotive Historians). In 2011, he was honored with the Lee Iacocca Award—one of the most coveted awards in automotive writing. His website is The Olde Milford Press (oldemilfordpress.com).
or
Not Currently Available for Direct Purchase