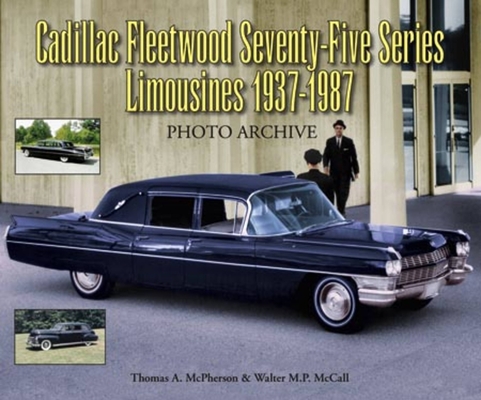 Cadillac Fleetwood Seventy-Five Series Limousines 1937-1987 Photo Archive (Paperback)
Enthusiast Books, 9781583882481, 128pp.
Publication Date: October 1, 2009
* Individual store prices may vary.
Description
From the late 1930s through the mid-1980s, it was truly the Cadillac of Cadillacs—the car of choice for the titans of American business, government and the entertainment industry. The stately long-wheelbase Cadillac Fleetwood Seventy-Five Eight-Passenger Sedan and Imperial Limousine occupied an exalted niche at the very pinnacle of the automotive pecking order in the U.S. and abroad. Whatever the destination—embassy, corporate head office, hotel, airport or Hollywood red carpet—when one arrived in a Cadillac Fleetwood Seventy-Five, one had truly arrived! Introduced in 1937, Cadillac's new Series 75 included 11 Fleetwood body styles ranging from coupes and convertibles to a seven-passenger touring sedan. In 1938, the restyled Series 75 got what was destined to become its signature body style —a severely formal long-wheelbase sedan and companion limousine. Cadillac Fleetwood Seventy-Five business sedans and limousines quickly won favor with commercial livery operators and funeral directors, challenging rival Packard's long domination of this small but prestigious market. By 1941 the Fleetwood Seventy-Five name was reserved exclusively for General Motors Corporation's flagship car—the long-wheelbase formal sedan and companion limousine with glass division.
About the Author
Thomas A. McPherson's byline is well known to most professional car enthusiasts. Because he has been documenting the history of the professional car industry and its products for many years, he is considered by many to be the leading authority in the field. A life-long car buff, Tom has been collecting automotive literature since the 1950s, has held product information and public relations positions with the Canadian subsidiaries of Fiat/Lancia, DaimlerChrysler, Hyundai and Audi, has co-authored a few books on funeral cars & hearses, as well as self-published 3 hefty books on his own – Flxible, Eureka and Superior.Walter M. P. McCall is one of the most widely known and respected fire apparatus historians and authors in North America. In addition to his highly regarded American Fire Engines Since 1900 – still considered the "bible" of the old fire engine hobby -- Walt McCall has authored ten Iconografix fire apparatus and professional car books including the landmark Encyclopedia Of American Fire Engine Builders. Walt served as Editor of Enjine! Enjine!, the quarterly magazine of the Society for the Preservation and Appreciation of Antique Motor Fire Apparatus in America (SPAAMFAA) for 25 years and edited The Visiting Fireman, the annual international directory of fire buffs for nine years. McCall has also written numerous articles for fire service and antique vehicle publications and newsletters in the United States and Canada.
or
Not Currently Available for Direct Purchase