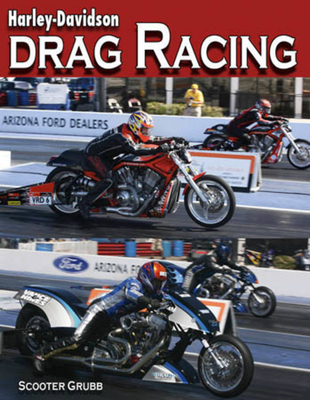 Harley-Davidson Drag Racing (Paperback)
Enthusiast Books, 9781583882627, 144pp.
Publication Date: May 15, 2010
* Individual store prices may vary.
Description
There is nothing like the sound of two Harley-Davidsons leaving the line to get your adrenaline pumping. Harley-Davidson Drag Racing uses over 300 color photos and 144 pages to capture that same raw energy of unleashed V-twin power. From your neighbor's Sportster to the Top Fuel machines, the bikes are all here. Each chapter describes one of sixteen classes, with pictures of the bikes and an explanation of the rules that make that class unique. Sidebars scattered throughout the book take the action inside the pits. Meet the riders capable of turning a 6 second quarter mile, the mechanics that keep it all running at 200 miles per hour, and the track officials who make each event possible. With an abundance of color photos, Harley-Davidson Drag Racing is a visual feast. Whether you just want to drink in the action or learn more about the bikes and the classes, this book is sure to satisfy that need for speed.
About the Author
Scooter Grubb discovered both photography and motorcycles in high school. Soon the two blended together into a life-long avocation. Today, his photographic work, done with some of America's top custom builders and V-twin racers, finds its way into the major motorcycle magazines like Hot Bike, American Iron, Rider, Easyriders, Hot Bike Baggers, and Cycle Source, to name just a few. His images from the BUB Land Speed Trials on the Bonneville Salt Flats have been widely published in the US, Europe and Australia. These photo credits include: The American Motorcyclist magazine, The FIM official magazine from Switzerland, Heavy Duty from Australia, and Back Street Heroes from England. Scooter is also author of the book: Harley-Davidson Drag Racing, done in conjunction with the AHDRA.