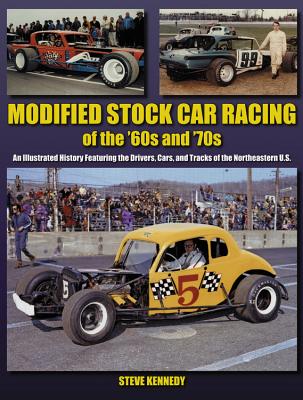 Modified Stock Car Racing of the '60s and '70s (Paperback)
An Illustrated History Featuring the Drivers, Cars, and Tracks of the No (A Photo Gallery)
Enthusiast Books, 9781583882849, 160pp.
Publication Date: October 15, 2012
* Individual store prices may vary.
Description
Never before has a national publication featured a collection of photos of the Northeast's favorite stock car racing's division – the modifieds. The author brings together photos and text of the region's best-loved drivers and their cars, as well as the "also-rans," during the '60s and '70s when modifieds were built in backyards by local mechanics utilizing junkyard parts, no two cars looked alike, and there were so many tracks to race at. See them now as they were!
About the Author
The author, Steven Kennedy, grew up in Plainville, CT, in the 1960s. Plainville was home to the Plainville Stadium, a quarter mile flat asphalt track that featured modifieds as the main division. Kennedy began attending races with his dad in 1970, and began shooting photos later that year with a Kodak Brownie instamatic box camera. He also began the habit of collecting photos the same year, buying photos from the track photographer Phil Hoyt. Kennedy eventually got his first 35 mm camera in 1973, and began traveling to other Connecticut race tracks that featured the modifieds, like Thompson and Stafford Speedways. He began writing for the magazine Prospeed Revue during that time, then took a job at the Waterford Speedbowl as the track photographer, a position he held until 1982, when he began a career as a professional artist. He still shoots at the Waterford Speedbowl for Racedog photography?s Keith Cyr and the track, and also contributes to the NJ based weekly racing paper Area Auto Racing News. Over the years he?s freelanced to many racing publications such as Trackside, Shorttrack and New England Speedway Scene.
or
Not Currently Available for Direct Purchase