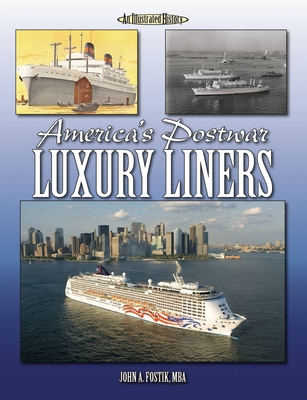 America's Postwar Luxury Liners (Paperback)
Enthusiast Books, 9781583882870, 128pp.
Publication Date: December 1, 2011
* Individual store prices may vary.
Description
After WWII, U.S. ports hosted the most luxurious and famous liners constructed by American master shipbuilders. These peacetime ambassadors carried refugees from war-torn lands to new lives in our shining cities and enabled leisurely travel in sparkling new American liners to tropical ports around the globe. The fascinating story of America's postwar luxury passenger liners—like the famed United States, the fastest liner in the world, and her consort America, the American Export "sunliners" Constitution and Independence, Grace Line's fleet of luxury liners like the Santa Paula and Santa Rosa, the Moore-Mc Cormack liners Argentina, Brazil and Uruguay, the "white ships" of the Matson Line, such as the Lurline and Monterey, and the American President liners President Polk and President Monroe—along with period photographs, advertisements, menus, post cards and other memorabilia.
About the Author
John Fostik attributes his life-long interest in all things maritime to his father, who worked in the Kearny Federal Shipyard during WWII. Growing up in northern New Jersey, John was fortunate to have been able to see and visit many of the famous luxury liners and cruise ships that called at the great port of New York. With keen experience as a result of working during college in a travel agency and subsequently taking over 40 trans-oceanic voyages, the author is uniquely qualified and exceptionally familiar with the history of the great American and International shipping companies. It remains his great hope that the pride of our national merchant marine, the SS United States, will once again enter service on the Atlantic.
or
Not Currently Available for Direct Purchase