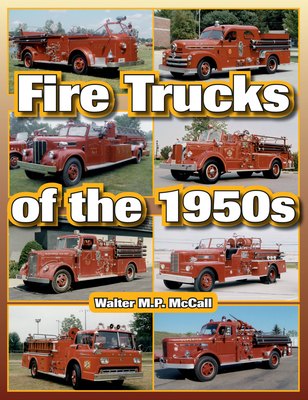 Fire Trucks of the 1950s (A Photo Gallery) (Paperback)
Enthusiast Books, 9781583882894, 128pp.
Publication Date: December 1, 2011
* Individual store prices may vary.
Description
American motor fire apparatus design reached its high-water mark in the 1950s. Every one of the nation's major fire apparatus manufacturers boasted uniquely individual custom fire truck designs. Unlike the look-alike cookie-cutter shoeboxes of today, back then a fire fighter could instantly identify these makes a block away. From conventional Fords to the custom rigs of fire apparatus manufacturers, all the most popular, unique, and industry-changing designs and innovations are featured in this long-overdue tribute to the fire trucks of the Fabulous Fifties!
About the Author
Walter M. P. McCall is one of the most widely known and respected fire apparatus historians and authors in North America. In addition to his highly regarded American Fire Engines Since 1900 – still considered the "bible" of the old fire engine hobby -- Walt McCall has authored ten Iconografix fire apparatus and professional car books including the landmark Encyclopedia Of American Fire Engine Builders. Walt served as Editor of Enjine! Enjine!, the quarterly magazine of the Society for the Preservation and Appreciation of Antique Motor Fire Apparatus in America (SPAAMFAA) for 25 years and edited The Visiting Fireman, the annual international directory of fire buffs for nine years. McCall has also written numerous articles for fire service and antique vehicle publications and newsletters in the United States and Canada.