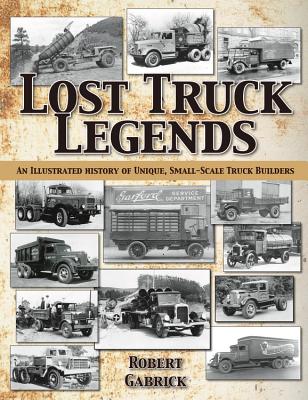 Lost Truck Legends
An Illustrated History of Unique, Small-Scale Truck Builders
Paperback

* Individual store prices may vary.
Description
Here you go truck fans, a book just for you! Featuring small-scale independent truck manufacturers, this book offers a selection of trucks no longer manufactured, but that in their time had a solid reputation. Basically, because of supply and demand, the smaller companies couldn't compete with the large manufacturers in the long run, yet they offered technological innovations, unique styling, or met a specific market niche to the trucking industry. Detailed histories along with vintage photographs hark back to a different era of these gone-but-not-forgotten, yet still-today-admired orphan trucks. Available, Fageol, Hug, Corbitt, Hendrickson, Dart, Garford, Republic, Bederman and a few others are portrayed with historic images through the 1930s-1970s time period.
Enthusiast Books, 9781583882962, 128pp.
Publication Date: October 15, 2012
About the Author
An avid reader and researcher, Robert Gabrick became interested in trucks and all things mechanical at an early age. Since then Mr. Gabrick went on to become a history teacher, researcher, and writer. He has been awarded 26 separate fellowships and grants for his historical research and papers. About his current truck research, Mr. Gabrick said, "The subject is really about history...it is important to preserve the history of these topics." His latest books have earned him the well deserved nickname "The Caption King" for his well-researched, informative captions.
or
Not Currently Available for Direct Purchase