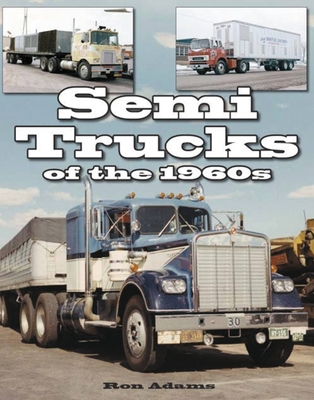 Semi Trucks of the 1960s (Paperback)
Enthusiast Books, 9781583883006, 160pp.
Publication Date: April 18, 2012
* Individual store prices may vary.
Description
This book follows on the heels of Semi-Trucks of the 1950s. As the '50s saw new and improved models after the starved war years, the Sixties was the decade for expansion, not only for truck manufacturers with a huge selection of models, but also for the trucking companies themselves with more places to haul. Construction of the Interstate highway system helped pave the way for faster and smoother service, helping reshape the American landscape faster than ever seen before. Gear up for this outstanding selection of 1960s semi-truck photos by Ron Adams. Captions include detailed information about the trucks, trailers, and hauling configurations of a wide range of makers including Mack, Brockway, Autocar, Diamond T, Diamond Reo, Ford, White-Freightliner, GMC, International, Kenworth, and Peterbilt.
About the Author
Ron Adams is a lifelong big truck enthusiast who has spent many years amassing an archive of vintage truck photos. His books include 100 Years of Semi Trucks, Big Rigs of the 1950s, Big Rigs of the 1960s, Semi Trucks of the 1970s, and Mack Trucks. He lives in Lenhartsville, Pennsylvania.