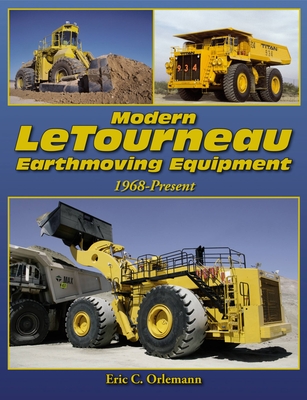 Modern LeTourneau Earthmoving Equipment (Paperback)
1968 - Present
Enthusiast Books, 9781583883037, 112pp.
Publication Date: June 1, 2013
* Individual store prices may vary.
Description
Over the years LeTourneau has produced some of the world's largest and most productive rubber-tired wheel loaders, wheel dozers, and haulers, including the world record breaking L-2350 Wheel Loader, the largest of its kind ever produced and offered to the mining industry. So large is the L-2350, it requires the world's largest tires ever made to carry the massive digging machine. Utilizing state-of-the-art diesel-electric drive systems, LeTourneau machines are at the forefront of today's most advanced technology being utilized in ultra-large mining rubber-tired loaders and dozers. Focusing on machines designed and built during the time period of 1968 to present, all of the company's quarry and mining machine offerings, including past LeTro-Loader, LeTro-Dozer, and Titan haul truck designs, as well as current equipment product lines, are featured in great detail Behind the scenes images, as well as model and working views, bring these giants to life with rare historic and modern photography, most of which has never been seen in publication before, making this a must have for all heavy equipment enthusiasts.
About the Author
Eric C. Orlemann has worked as a professional photographer and communications specialist in the industrial advertising field for over 27 years. As the proprietor of ECO Industrial Communications, he counts many of the large earthmoving equipment manufacturers in the industry as his clients. Over the years, Orlemann has amassed one of the world?s most significant private earthmoving photographic collections. In addition to authoring or co-authoring thirteen books concerning earthmoving equipment manufacturers, and various other ultra-large earthmovers, Orlemann has contributed numerous articles to the Equipment Echoes, the Historical Construction Equipment Association?s official newsmagazine. Orlemann has also acted as a technical consultant concerning heavy equipment for various popular cable television networks including The History Channel, The Learning Channel (TLC), and The Discovery Channel.
or
Not Currently Available for Direct Purchase