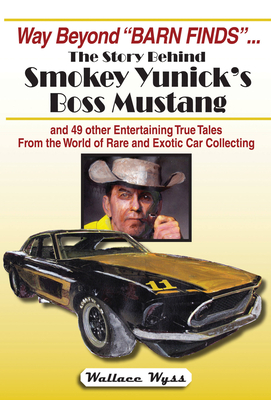 Way Beyond "Barn Finds" ... The Story Behind Smokey Yunick's Boss Mustang
and 49 other Entertaining True Tales From the World of Rare and Exotic Car Collecting
Paperback

* Individual store prices may vary.
Description
The Story Behind Smokey Yunick's Boss Mustang is just one of 50 entertaining true stories from the collector car world.
Smokey was racing's ultimate trickster. At one race the NASCAR sanction boys noted 16 infractions. With gas tank removed after the inspection, he grinned. "Make that 17," he said and drove away, having plumbed the roll bar for additional gas storage.
Although not the story of the Boss 302 herein, these are the kind of anecdotes that make this book a fun read and more than just facts about barn-finds. Book #3 in this incredible new collection of automotive 'barn finds and beyond' stories include...
A persistent Porsche mechanic who asked each 904 owner if their car would be for sale after a race. He paid only $7,000 to one agreeable owner and the car recently sold for over a million dollars...
Celebrities like Steve McQueen, who bought a Jaguar XK-SS, originally created for the track but turned into a street car by the factory, now worth $10 million!...
A photographer who always wondered why his Mercedes gullwing was a little different. He sold it for under $8,000 only to find out decades later that the chassis was from a Le Mans winner in '52. A luckier later owner rebodied it, probably worth $20 million today.
Enthusiast Books, 9781583883327, 248pp.
Publication Date: May 18, 2015
About the Author
Wallace Wyss is a native of Detroit who recalls first seeing Porsche 356 cars racing on the frozen ice of Lake Orion, Michigan. Little did he know that a half century later, he would be chronicling their history. After stints as a soldier, public relations man, and Montana cowboy (really!), he enjoyed a career as an ad copywriter, writing Corvette and Camaro ads during the original Muscle Car era. His foray into journalism began with a staff job at Motor Trend, before he set up shop as an independent author and publisher. He has published fifteen automotive histories, including the Incredible Barn Finds series (Enthusiast Books), and one novel. In 2009 he picked up a paint brush for the first time, and you can occasionally find his fine art in galleries on the West Coast. Along the way, he barn-found and restored such cars as two Mercedes gulllwings, a Ferrari 365GTC/4, and a Porsche 356 Convertible D.