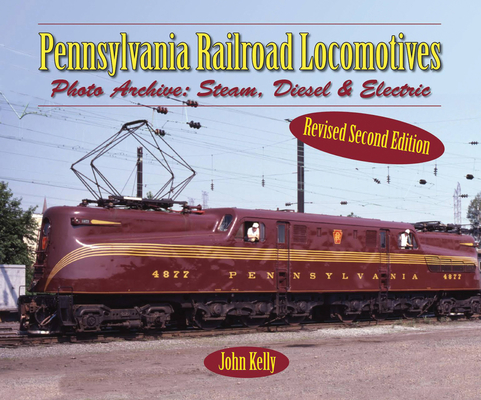 Pennsylvania Railroad Locomotives (Paperback)
Photo Archive: Steam, Diesel, and Electric
Enthusiast Books, 9781583883495, 126pp.
Publication Date: August 1, 2017
* Individual store prices may vary.
Description
The Pennsylvania Railroad experimented with different builders and type of locomotives until they found the best design. Highlighted are various classes of steam locomotives like the K4 4-6-2, S1 6-4-4-6 Duplex and T1 4-4-4-4 Duplex, diesel's like Alco RS models, Baldwin end-cab switchers, Fairbanks-Morse Train Master, Electro-Motive GP series, F-units and E-units, along with the legendary bi-directional, center-cab GG1 electric locomotive. Also featured with this collection of previously unpublished archival photos are a system map, timetables, advertising and locomotive designs by well known industrial designer Raymond Loewy. Revised edition with 16 pages of color and revised and expanded captions.
About the Author
John Kelly grew up in Eau Claire, Wisconsin, where his dad's best friend, an engineer on the Chicago & NorthWestern, gave him and his brother occasional midnight cab rides on C&NW freight trains from Altoona to Elroy, Wisconsin. As a teenager, he enjoyed watching C&NW, Milwaukee Road and Soo Line trains come through his home town. Given his hobby of railroad history, John has written articles for Trains magazine, Trains.com, and Vintage Rails and has also authored a number of books on streamlined passenger trains, including Streamliners to the Twin Cities, Interurban Trains to Chicago, and Chicago Stations & Trains. In 2009, John co-authored Trains to Victory--America's Railroads in World War II--with Don Heimburger. Railroads of Milwaukee continues John's interest in Midwestern cities that offered passenger train service. His memories of the Milwaukee Road include photo outings to the Milwaukee Shops--in 1922 it was one of the largest rail car complexes in the United States--and diesel service facilities in the late 1970's. It was exciting to stand near the 35th Street Viaduct, he says, and take photos of the various locomotives and sprawling railroad yards. John is also a volunteer-docent for the innovative National Park Service-Amtrak partnership Trails & Rails program during the summer travel season. This program provides rail passengers with the educational opportunities that foster an appreciation of a selected region's natural and cultural heritage. He joined Trails & Rails in 2007, completing four years as a docent on Amtrak's famed Empire Builder between Chicago and Winona, Minnesota. In addition, he volunteers with the Center for Railroad Photography & Art in Madison, Wisconsin, archiving historic railroad images.