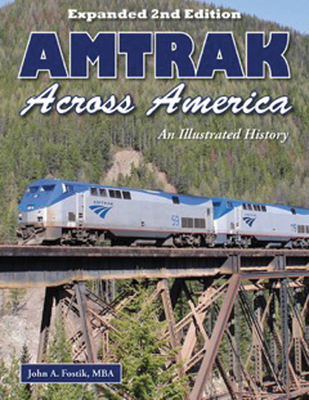 Amtrak Across America (Paperback)
An Illustrated History
Enthusiast Books, 9781583883501, 144pp.
Publication Date: December 19, 2017
Other Editions of This Title:
Paperback (10/15/2012)
* Individual store prices may vary.
Description
Amtrak is an essential part of America's transportation system for over 28 million passengers. Amtrak Across America profiles every line from the past and present. Whether it was a legacy Streamliner of the pre-Amtrak era -- Champions, Chiefs, Eagles, Rockets, Zephyrs – or today's modern Acela Express, or even one of the anticipated, high speed, "corridor trains", they're all here.

With evocative photos, postcards, memorabilia and other collateral, this book is a journey through the past 40 years of Amtrak across America, and all the preceding rail lines that transformed the nation. This expanded edition has new information on all Amtrak's routes making this useful for anyone thinking of riding the rails.
About the Author
John Fostik attributes his life-long interest in all things maritime to his father, who worked in the Kearny Federal Shipyard during WWII. Growing up in northern New Jersey, John was fortunate to have been able to see and visit many of the famous luxury liners and cruise ships that called at the great port of New York. With keen experience as a result of working during college in a travel agency and subsequently taking over 40 trans-oceanic voyages, the author is uniquely qualified and exceptionally familiar with the history of the great American and International shipping companies. It remains his great hope that the pride of our national merchant marine, the SS United States, will once again enter service on the Atlantic.