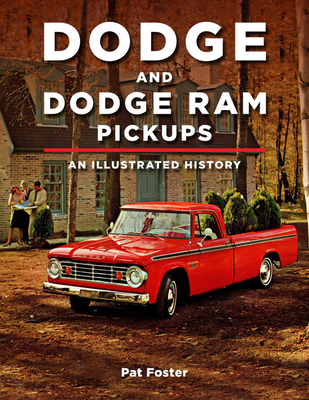 Dodge and Ram Pickups (Paperback)
An Illustrated History
Enthusiast Books, 9781583883648, 126pp.
Publication Date: November 3, 2020
* Individual store prices may vary.
Description
In this exciting new history of Dodge and Ram trucks, award-winning automotive author Patrick Foster details the genesis of today's hot-selling Ram pickups, vans and four-wheel-drives. Beginning with the Graham Brothers, who built the first trucks sold through Dodge dealers, Foster traces the path of Dodge commercial vehicles through the terrific Dodge trucks built during the Roaring Twenties and into the Depression Thirties. Foster then takes us into the war years, 1941-1945, when Dodge manufactured a broad array of war materiel including the mighty WD and WF trucks, which later morphed into the now-legendary postwar Dodge Power Wagons. Next, Foster dives into the decade of the fabulous 1950s, a golden era for American pickups that brought us the equally fabulous Dodge B and C series trucks. Entering the 1960s, Foster tells the story of the growing popularity of Dodge trucks. The story grows as the Dodge line expands in size and in sales.  The Dodge D-series and four-wheel-drive W-series are covered in a following chapter, while another is dedicated to the Dodge cabover trucks. The book ends with an Addendum dedicated to the delightful Dodge cabovers. The final chapter of Dodge and Ram Pickups: An Illustrated History covers the turbulent years 2000-2020 when Dodge went from being part of a bankrupt company to its present position today as the number 2 selling full-size pickup in the world. 
About the Author
One of America's best-known automotive writers, Patrick R. Foster has spent over 30 years studying the automotive industry. The leading authority on AMC and its predecessors, Pat has written several books on that subject along with many others, including Jeep, Studebaker, Hudson, Kaiser-Frazer, and Metropolitan. His popular columns appear in Hemmings Classic Car and Old Cars Weekly, and he has won awards for his books and articles from the AACA (Antique Automobile Club of America) and SAH (Society of Automotive Historians). In 2011, he was honored with the Lee Iacocca Award—one of the most coveted awards in automotive writing. His website is The Olde Milford Press (oldemilfordpress.com).