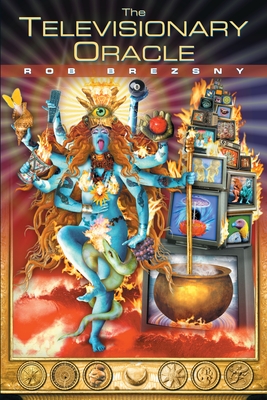 The Televisionary Oracle
Paperback

* Individual store prices may vary.
Description
Millions of people already live their lives in accordance with Rob Brezsny's "Real Astrology" prophecies. But the time has come for a deeper dose of Brezsny's brain. The Televisionary Oracle is an archetypal roller-coaster that would make Rumi dizzy and leave Carl Jung gasping for breath.
Praise For The Televisionary Oracle…
"Brilliant! Absorbing! Wildly useful! Rob Brezsny gets my nomination for best prophet in a starring role. He's a script doctor for the soul."—Marisa Tomei, Academy Award-winning actress
"I am deeply inspired by the illuminated words of Rob Brezsny. He is a word wizard for the soul."—SARK, author/artist Succulent Wild Woman
"A book so weird it just might drive you stark raving sane."—Robert Anton Wilson
"I've seen the future of American literature and its name is Rob Brezsny."—novelist Tom Robbins
 
"Brezsny holds his own place next to cultural shamans like Robert Anton Wilson, Timothy Leary, William Burroughs, and Ken Kesey."—Popmatters.com
 
"Like a mutant love-child of Jack Kerouac and Anais Nin, Rob Brezsny writes with devilish humor, spiritual audacity, and erotic intensity. The Televisionary Oracle is a kick-ass gnostic tale. Prepare to be astonished."—Jay Kinney, author of Hidden Wisdom: A Guide to the Western Inner Traditions
 
"The Televisionary Oracle's heroine, Rapunzel, is one of recent literature's sexiest female protagonists."—Weekly Alibi, Albuquerque
 
"Millions of people already live their lives in accordance with Rob Brezsny's 'Free Will Astrology' prophecies. But the time has come for a deeper dose of Brezsny's brain. Enter this temple if you dare!"—David Ulansey, author of The Origins of the Mithraic Mysteries
 
"Rob Brezsny is contemporary literature's Sage Against the Machine."—Good Times, Santa Cruz, CA
 
"The prose is poetic, circular, dancing, combining the narrative voices of Anais Nin, Tom Robbins, and David Ignatow."—Rain Taxi
 
"What Rob Brezsny does with words is grammarye, the Old English term for magic. With his strange brew of macho feminism and poetic rationalism, Brezsny weaves a yarn crazy enough to be true and real enough to subvert the literalist virus of cynicism now immobilizing the collective mindscape."—Antero Alli, author of Astrologik, Angel Tech, and The Vertical Oracle
 
"Smart and insane, The Televisionary Oracle takes you on a wild inner journey that makes you ask the question, have I done any good in the world? It also makes you wonder, how does a man know so much about the psyche of a woman? A marvelous book. A must read."—Grainne Rhuad
Frog Books, 9781583940006, 496pp.
Publication Date: March 1, 2000
About the Author
Rob Brezsny writes "Free Will Astrology," a syndicated weekly column that reaches nine million readers in over 100 publications, including the Village Voice, where it has appeared every week since January 1999. It is also published on his website, at www.freewillastrology.com, and is distributed through a weekly email newsletter with 26,500+ subscribers.When Utne Reader named Brezsny a "Culture Hero," it observed: "With a blend of spontaneous poetry, feisty politics, and fanciful put-on, Brezsny breathes new life into the tabloid mummy of zodiac advice columns."In its profile of Brezsny, The New York Times quoted a reader who compared his writing to that of Tom Robbins. The horoscopes "are like little valentines, buoyant and spilling over with mischievousness. They're a soul prognosis."Before The Televisionary Oracle, Brezsny's enduring artistic artifacts were music albums, one created as a solo artist and three with the band World Entertainment War, which recorded for MCA. One of World Entertainment War's albums was nominated for a "Bammy," California's version of the Grammies, and benefited from the promotional wizardry of rock's top impresario, Bill Graham, who managed World Entertainment War until his death.Brezsny's latest book, Pronoia Is the Antidote for Paranoia, can be seen here.
or
Not Currently Available for Direct Purchase