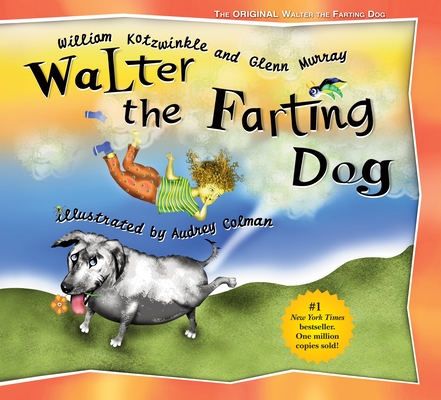 Walter the Farting Dog
Hardcover

* Individual store prices may vary.
Description
A New York Times best-seller!

Warning: This book may cause flatulence. Walter is a fine dog, except for one small problem: he has gas. He can't help it; it's just the way he is. Fortunately, the kids Billy and Betty love him regardless, but Father says he's got to go! Poor Walter, he's going to the dog pound tomorrow. And then, in the night, burglars strike. Walter has his chance to be a hero. A children's beloved classic, this story will have kids rolling on the floor with laughter. Adults are permitted to laugh too.
Praise For Walter the Farting Dog…
A New York Times Bestseller!

"Is there any reason to purchase this, besides the fact that kids will find it hysterical? The dialog is clever...and the art is quite ingenious. Seemingly computer-conceived characters—including Walter complete with a permanently abashed expression—are unique efforts, as are the smoothly colored backgrounds. All in all, it's a gas."
—Booklist

"Kotzwinkle and education writer Murray know their audience. Their simple strategy – just keep saying 'fart' – should have children rolling in the aisles during read-aloud… Colman specializes in reaction shots; in her surreal collages of photos and patterns, people hold their noses and a cat glances at the culprit."
—Publishers Weekly

"This children's book is a delight… The story, by William Kotzwinkle and Glenn Murray, is well-written and eminently readable, both to oneself and aloud, and the art by Audrey Colman is perfectly suited to the subject matter."
—Comics Buyer's Guide

"Walter, a loveable and preternaturally gaseous canine, has brought dog flatulence (and as a result, flatulence in general) to the fore like never before… Walter is hailed by kids and grownups alike."
—Chicago Sun-Times

"A silly, heart-warming story on its own, Walter really comes to life through Colman's whimsical, funny illustrations."
—Oakland Tribune

"A whimsical story about one of the more embarrassing aspects of animal (and human) behavior."
—Poetry Flash

"[Walter the Farting Dog] gives readers and listeners a chance to indulge in what is usually an off-limits topic, one of those things that everybody does but which all are supposed to disavow any knowledge of."
—The Education Digest

"When you put this cute story together with the wildly original artwork by Audrey Colman, you get an irresistible book that is as hilarious as it is touching… As well as being quite amusing… Walter the Farting Dog has a good message and illustrations that will make all readers smile."
—Curled Up With A Good Kid's Book

"Spending at least 75 weeks on The New York Times Best Seller List, Walter the Farting Dog is a delightful children's book with a title that elicits giggles that continue throughout the book… On its surface, this story may seem to have very little redeeming social value except to be an entertaining book to read to or with your kids (or someone else's). But if you look a little deeper into its content, perhaps there is more to be learned from Walter. Maybe some of those little imperfections that make kids feel different are really things to be proud of. Maybe even some of the unpleasant things about us can work in our favor…even if you have to look really, really, really hard to see how."
—Paw Prints Magazine
Frog Children's Books, 9781583940532, 32pp.
Publication Date: November 1, 2001
About the Author
William Kotzwinkle is the author of eighteen children's books, including The World is Big and I'm So Small, Tales from the Empty Notebook, The Nap Master, E.T. The Extraterrestrial and E.T. The Book of the Green Planet. His books for adults include The Bear Went Over the Mountain, The Fan Man, Fata Morgana, and Doctor Rat. He is the two-time winner of the National Magazine Award for Fiction and the World Fantasy Award. His books are published all over the world.


Glen Murray is a supervisor for educational technology in New Brunswick, Canada. He spends a lot of time in schools where he often mixes business with pleasure by reading to elementary classes. He has written radio dramas for the CBC, as well as articles on Canadian history and technology. He recently worked with the Lung Association on their Flight for Life project, raising awareness from coast to coast about air quality and the environment.


Audrey Colman is an artist and designer living in Berkeley, California. Her art has been featured in a variety of products from magazines, posters, and other print work to multi-media projects. This is her first children's book. She is also the author and illustrator of Francine, Francine the Beach Party Queen! Visit her art at www.goodartstudio.com.