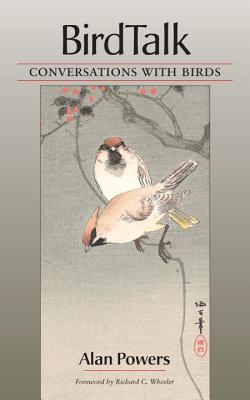 BirdTalk (Paperback)
Conversations with Birds
Frog Books, 9781583940655, 216pp.
Publication Date: December 27, 2002
* Individual store prices may vary.
Description
For the last 20 years, Alan Powers, who lives near Cape Cod, has experimented with birdcalls—mimicking and answering the calls he hears around his country home, in cities, and abroad in France and Italy. In BirdTalk, he celebrates this connection with entertaining allusions to history, literature, travel, linguistics, and other fields. The result is a charming and erudite stroll through an area of interest sometimes lost in the urban din. Powers reveals "birdtalk" by mapping the history of ornithological studies, quoting such bird fanciers as Shakespeare and Emily Dickinson and discussing specific techniques. In one of the most amusing chapters, he describes his attempts to teach the birds new symphonic riffs on their own calls. This illustrated literary inquiry into birdcalls is a nature book with a gift-book look.
About the Author
Alan Powers graduated from Amherst College in 1966 and earned his Ph.D. in English from the University of Minnesota in 1974. Since that year he has been on the faculty at Bristol Community College, where he was Chairman of the English Department from 1988-1992. A scholar of Renaissance Italian, English, and American literature, he has published and lectured widely on Shakespeare, Giordano Bruno, Seventeeth Century and Romantic poetry, as well as Emily Dickinson and other American writers. Interested as much in local history as language, his interests include research and publishing on early American New England street games. He has held many fellowships and prizes for research and his own poetry, and in 2001 made a guest appearance in James Wolpaw's documentary film on Emily Dickinson. Powers lives in Westport, Massachusetts, with his wife, the artist Susan Mohl Powers.
or
Not Currently Available for Direct Purchase