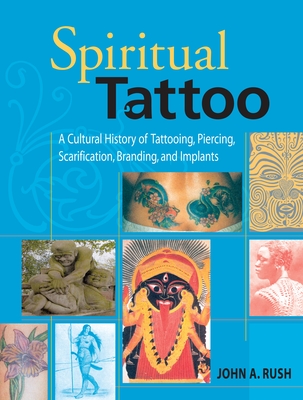 Spiritual Tattoo
A Cultural History of Tattooing, Piercing, Scarification, Branding, and Implants
Paperback

* Individual store prices may vary.
Description
Say "body modifications" and most people think of tattoos and piercings. They associate these mainly with the urban primitives of the 1980s to today and with primitive tribes. In fact, as this fascinating book shows, body mods have been on the scene since ancient times, traceable as far back as 1.5 million years, and they also encompass sacrification, branding, and implants. Professor John Rush outlines the processes and procedures of these radical physical alterations, showing their function as rites of passage, group identifiers, and mechanisms of social control. He explores the use of pain for spiritual purposes, such as purging sin and guilt, and examines the phenomenon of accidental cuts and punctures as individual events with sometimes profound implications for group survival. Spiritual Tattoo finds a remarkable consistency in body modifications from prehistory to the present, suggesting the importance of the body as a sacred geography from both social and psychological points of view.
Praise For Spiritual Tattoo: A Cultural History of Tattooing, Piercing, Scarification, Branding, and Implants…
"Tattooings are not only ornaments... they are not only emblems of nobility and symbols of rank in the social hierarchy; they are also messages fraught with spiritual and moral significance... not only to imprint a drawing onto the flesh but also to stamp onto the mind all the traditions and philosophy of the group."
- Claude Levi-Strauss

"And this tattooing has been the work of a departed prophet and seer of his island, who, by those hieroglyphic marks, had written out on his body a complete theory of the heavens and the Earth, and a mystical treatise on the art of attaining truth; so that Queequeg in his own proper person was a riddle to unfold; a wondrous work in one volume; but those mysteries not even himself could read, though his own live heart beat against them."
- Herman Melville
Frog Books, 9781583941171, 256pp.
Publication Date: March 17, 2005
About the Author
John A. Rush, Ph.D., N.D., is a Professor of Anthropology at Sierra College, Rocklin, California, teaching Physical Anthropology and Magic, Witchcraft, and Religion. Dr. Rush's publications include Witchcraft and Sorcery: An Anthropological Perspective of the Occult, The Way We Communicate, Clinical Anthropology: An Application of Anthropological Concepts within Clinical Settings, and Stress and Emotional Health: Applications of Clinical Anthropology. He is also a Naturopathic Doctor in private practice.
or
Not Currently Available for Direct Purchase