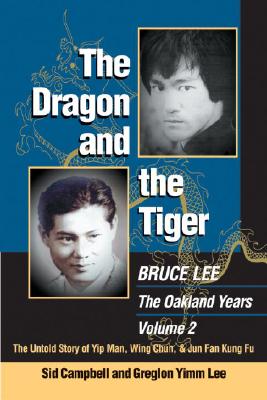 The Dragon and the Tiger, Volume 2: The Untold Story of Jun Fan Gung-Fu and James Yimm Lee (Paperback)
The Untold Story of Jun Fan Gung-Fu and James Yimm Lee
Blue Snake Books, 9781583941188, 288pp.
Publication Date: January 20, 2005
Description
Although the time Bruce Lee spent in Oakland, California is often treated as a mere footnote on his path to stardom, these years had a substantial impact on the martial artist and man he would become. After many years of research, authors Sid Campbell and Greglon Yimm Lee (son of James Yimm Lee) continue their fascinating, up-close description of Bruce Lee's early life.
"The Dragon and the Tiger, Volume 2" takes up where Volume 1 left off, detailing Bruce Lee's departure from Seattle and his adventure-filled return to Oakland. We follow him as he comes to better know Gung-fu extraordinaire James Lee and his circle of martial arts friends. As Bruce discovers James's numerous talents as an author, publisher, martial arts equipment inventor, herbal pharmacologist, body builder, and phenomenal 'brick breaker' he begins to make regular trips from Seattle to Oakland to learn from this exceptional man. Bruce Lee also begins teaching his Jun Fan Gung-fu and elements of chun to his newfound friend.
Bruce Lee and James Yimm Lee were both highly opinionated free thinkers and when Bruce and his new bride Linda Emery Lee moved to Oakland and lived with James Lee's family, they began to share ideas, insights, philosophies, friendship, camaraderie, and a deep respect for one another's special traits and talents. Although James was twenty years Bruce's senior, they forged a bond and became more like brothers than friends- young Greglon Lee even took to calling Bruce and Linda 'Uncle' and 'Aunt.' This rare friendship and further never-before-revealed details from the life of the young Bruce Lee unfold in "The Dragon and the Tiger, Volume 2," a story the authors refer to as the 'Fusion of Two Fighters.'
About the Author
Sid Campbell is a leading authority on traditional Okinawan and Japanese martial arts and holds a 10th degree black belt in shorin-ryu karate. He is an artist, lecturer, inventor, scriptwriter, and World Martial Art Masters Association Hall of Fame inductee. He also supervises over 48 shorin-ryu branch schools around the world and had the opportunity to share martial arts knowledge with both Bruce Lee and James Yimm Lee when they visited his dojo in Oakland, California in the late 1960's.
Advertisement