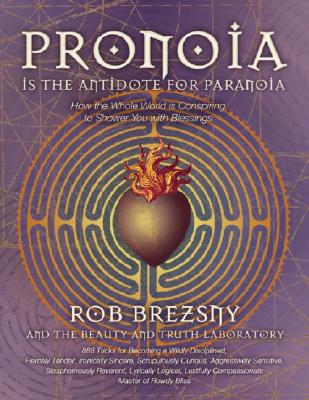 Pronoia Is the Antidote for Paranoia
How the Whole World Is Conspiring to Shower You with Blessings
Paperback

* Individual store prices may vary.
Other Editions of This Title:
Paperback (9/22/2009)
Description
Human beings are selfish, small-minded, violence-prone savages, civilization is a blight on the earth, and the rising tide of chaos ensures that everything's going to fall apart any day now. Right? Wrong, says Rob Brezsny. In Pronoia Is the Antidote to Paranoia, he declares evil is boring, the universe is friendly, and life is a sublime gift created for our amusement and illumination. This buoyant perspective is not rooted in denial. On the contrary, Brezsny builds a case for a "cagey optimism" that does not require a repression of difficulty, but rather, seeks a vigorous engagement with it. The best way to attract the blessings that the world is conspiring to give us, he insists, is to dive into the most challenging mysteries. This witty, inspiring how-to shows how any reader can become "a wildly disciplined, fiercely tender . . . lustfully compassionate Master of Rowdy Bliss."
 
The newly revised and significantly expanded—by more than a hundred pages—edition of Pronoia is now available (ISBN: 978-1-55643-818-9).
Praise For Pronoia Is the Antidote for Paranoia: How the Whole World Is Conspiring to Shower You with Blessings…
"I've seen the future of American literature and its name is Rob Brezsny."
- Tom Robbins, author of Another Roadside Attraction, Jitterbug Perfume, and Fierce Invalids Home from Hot Climates

"Brilliant! Absorbing! Wildly useful! Rob Brezsny gets my nomination for best prophet in a starring role. He's a script doctor for the soul."
-Marisa Tomei, Academy Award-winning actress

"I am deeply inspired by the illuminated words of Rob Brezsny. He is a word wizard for the soul."
-SARK, bestselling author of Succulent Wild Woman and many other books

"What's amazing is how Brezsny's prose remains invigorating in the transition from weekly astrology to larger scope writing. The prose is still poetic, circular, almost dancing, combining the narrative voices of Anais Nin, Tom Robbins, David Ignatow, and a host of ancient mystics."
-Rain Taxi

"Brezsny holds his own place next to other cultural shamans such as Robert Anton Wilson, Timothy Leary, Reverend Ivan Stang, William S. Burroughs, and Ken Kesey."
-PopMatters

"Like a mutant love-child of Jack Kerouac and Anais Nin, Rob Brezsny writes with devilish humor, spiritual audacity, and erotic intensity. The Televisionary Oracle is a kick-ass gnostic tale. Prepare to be astonished."
-Jay Kinney, author of Hidden Wisdom

"A book so weird it might drive you stark raving sane."
-Robert Anton Wilson
Frog Books, 9781583941232, 312pp.
Publication Date: May 24, 2005
or
Not Currently Available for Direct Purchase