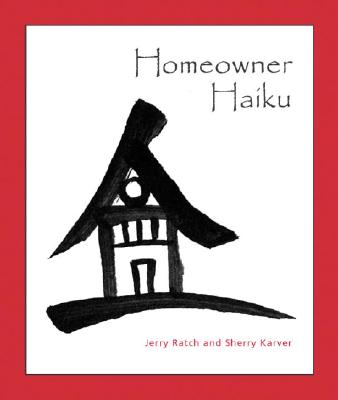 Homeowner Haiku (Paperback)
Frog, 9781583941324, 118pp.
Publication Date: November 1, 2005
* Individual store prices may vary.
or
Not Currently Available for Direct Purchase
Description
Written by a Realtor who is also a poet and novelist, Homeowner Haiku elegantly encapsulates the often enervating process of the real estate transaction. These brief flashes, a perfect calming gift for anyone buying or selling a home, satisfy and challenge the reader with vivid images and pithy insights, as in this sample: "Dream house / we see our / children climbing the pear tree / that's not yet planted." Sherry Karver's artwork expands the experience of poems like "Zen and the Art of Homeownership" and "Those Little Voices" that run the gamut from comic to elegiac.
About the Author
Jerry Ratch is a Realtor who is also a writer, with eleven books of poetry and one novel to his credit. Sherry Karver, his wife, is an artist who exhibits nationally and whose work is in many private and corporate collections. They live in Oakland, California.
Praise For Homeowner Haiku…
"Owning a home can be a love-hate relationship, especially when the dishwasher breaks. So take a deep breath and read a few excerpts from Homeowner Haiku by Jerry Ratch and Sherry Karver. The Zen-inspired gift book takes both a comical and nostalgic look at the yin and yang sides of home ownership."
-Dallas Morning News, Dec. 2, 2005

"The book is delightful. The poems humorously capture every emotion from warm memories stored in the attic to what the authors call the 'cold, 2 a.m. Sweats' for the first-time buyer facing a 30-year mortgage."
-Charlotte Observer, Dec. 3, 2005

"Homeowner Haiku is meant for those highly specialized meditations provoked by escrow and blasted water heaters."
-Holiday Guide: "Books to Give, Books to Get," East Bay Express, Nov. 23, 2005

"Haiku also works quite well in 'expressing these little moments that we feel before, during, and after the home-buying process,' say Jerry Ratch and Sherry Karver, creators of Homeowner Haiku, a charming little book just out from Frog Ltd. (North Atlantic Books, $9.95). Ratch is a realty agent and a poet; Karver, his wife, is an artist. They know the territory, you might say."
- The Miami Herald, December 4, 2005
Advertisement