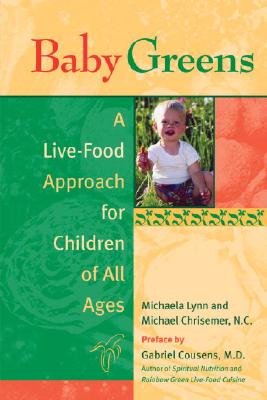 Baby Greens (Paperback)
A Live-Food Approach for Children of All Ages
Frog Books, 9781583941379, 192pp.
Publication Date: October 7, 2005
* Individual store prices may vary.
Description
The typical American diet is a major factor in the epidemic of obesity and poor health in the country's children. Baby Greens helps parents establish healthy eating habits in their children—and themselves—through a diet rich in raw foods. A lively mix of education, philosophy, recipes, and activities, the book adapts the living foods approach for all ages and lifestyles. The first part of the book explains the principles of bioenergetic nutrition and shows how cutting-edge nutritional practices—including nutritional individuality, pH balance, terrain testing, and homeopathy—can dramatically improve a child's health. In addition to recipes and resources, the second part offers insights into the holistic approach to pregnancy, breastfeeding, extended breastfeeding, weaning, food experimentation, play, and other daily activities. Written in reassuring, easy to understand language, Baby Greens empowers parents to step outside the fast food box and take a proactive approach to maintaining their family's health and well-being.
About the Author
Michael Chrisemer is a licensed nutritionist and the founder of the Matrix Nutritional Consulting. Michaela Lynn was founder of Mama Greens Children's Garden, a nurturing home-based daycare in Patagonia, Arizona, where the Baby Greens recipes were tried and perfected. Chirsemer, Lynn, and their children live in the Driftless area of Southwestern Wisconsin.
Praise For Baby Greens: A Live-Food Approach for Children of All Ages…
"Baby Greens is a delightful, heartfelt, educational primer and support system for parents. It has imaginative, fun-filled easy recipes, useful resources, and practical parent-child activities to potentiate the live-food way of life. I consider Baby Greens a must-read for all, especially live-food, parents."
—From the foreword by Gabriel Cousens, M.D., director of the Tree of Life Foundation and Rejuvenation Center in AZ and the author of Rainbow Green Live-Food Cuisine, Conscious Eating, and Spiritual Nutrition

"Whether or not you are a parent, there is plenty to learn in this raw foods primer."
—VegNews

"I loved [Baby Greens]. What an inspiring book and perfect resource."
—Naptime Reviews


or
Not Currently Available for Direct Purchase