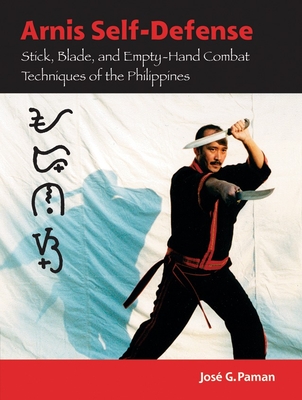 Arnis Self-Defense
Stick, Blade, and Empty-Hand Combat Techniques of the Philippines
Paperback

* Individual store prices may vary.
Description
The book features a twofold, interrelated focus. First, it looks at the unique Filipino culture; how it was greatly influenced by Spanish colonization, the oppression it suffered under foreign rule, and how the native yearning for freedom led to the development of the martial art of arnis. The book then presents the distinct technical aspects and resultant physical manifestation of the indigenous fighting art. Centering upon the Kombatan method forged by Grandmaster Ernesto Amador Presas Sr., it describes numerous maneuvers utilizing stick, blade, and empty hand components, and offers information on their myriad practical applications.

This volume is unique in that it is one of but a few composed by a native-born and bred Filipino author, one who absorbed lesson in the Philippines, directly under the guidance of an established system's founder. The book seeks to present arnis in a proper light, as a simple and pragmatic method of self-protection, while debunking the more fanciful theories and concepts that have crept in as it makes its way into world consciousness.
Praise For Arnis Self-Defense: Stick, Blade, and Empty-Hand Combat Techniques of the Philippines…
"Author José G.Paman was one of my first-generation black belt graduates in arnis and karate at the original Arjuken Karate Association at Quiapo...In this [book], Paman describes the background development of arnis and presents in great detail the vital self-defense skills needed to master the various combat situations one may face in everyday life. I heartily endorse this volume and recommend it as essential reading for practitioners of arnis everywhere."
—Grandmaster Ernesto Amador Presas Sr., International Philippine Martial Arts Federation, Manila, Philippines
Blue Snake Books, 9781583941775, 200pp.
Publication Date: April 3, 2007
About the Author
Jose G. Paman was born in the Philippines, holds advanced instructor degrees in arnis, karate, and jujitsu, and is a kung-fu expert. A resident of the Sacramento area of California, Paman practices, researches, teaches, and writes about traditional and contemporary martial arts.
or
Not Currently Available for Direct Purchase