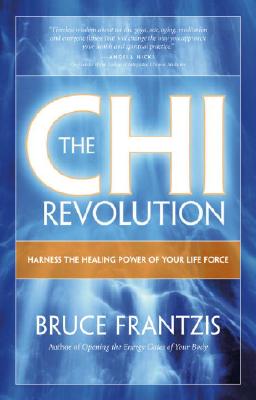 The Chi Revolution: Harnessing the Healing Power of Your Life Force (Paperback)
Harnessing the Healing Power of Your Life Force
Blue Snake Books, 9781583941935, 225pp.
Publication Date: January 29, 2008
* Individual store prices may vary.
or
Not Currently Available for Direct Purchase
Description
Revolution is generally considered something external, explosive. In this book, Bruce Frantzis, renowned chi master and author, challenges readers to embark on an inner revolution to reclaim joy and happiness in life, reverse the effects of aging and release their stress and negative emotions.
Chi adepts can consciously feel and work with all the acupuncture meridians, internal organs and other structures in their own bodies. Yet these are skills that most Westerners would consider to be something out of science fiction and absolutely impossible to achieve in real life.Drawing on forty years of training in ancient Chinese practices, Frantzis provides readers with new and startling insights about how life-force energy--chi--can help them achieve enduring health and wellbeing. "The smooth, balanced flow of your life-force energy is the single most important determinant to your health, vitality and happiness," he says.
Instead of the "no pain, no gain," mantra of our over-caffeinated, stressed out culture, Frantzis gives readers energetic fitness exercises that comprise the unique Chi Rev Workout(TM). These transformative exercises teach readers to activate and strengthen their chi and to relax their nervous systems. "The more you relax, the more health, stamina and strength you will have," says Frantzis.
Frantzis reveals how once closely guarded and ancient secrets of chi are the power behind:
--Spirituality, prayer and meditation.
--Acupuncture and the potent self-healing methods of chi gung (qigong) and Taoist yoga.
--Enhanced sexual vitality and intimate relationships.
--Internal martial arts, such as tai chi.
--Divination methods of the "I Ching.
About the Author
Bruce Frantzisis reputed to be the first Westerner to hold authentic lineages in Taoist energy arts. He studied healing, martial arts and meditation with renowned teachers in Asia for 16 years--including training in China for more than a decade.

Since 1987, Frantzis has taught chi gung, martial arts, TAO yoga, TAO meditation, and energetic-healing therapies to over 15,000 students in the United States and Europe. His teaching methods are spread by a growing number of certified instructors that he has trained in the United States and Europe.

Frantzis is the author of several widely praised books about the power of chi including: "Tai Chi: Health for Life; "the chi gung books, "Opening the Energy Gates of Your Body "and the" Dragon and Tiger Medical Chi Gung Instruction Manual; "and two volumes on the water method of TAO meditation," Relaxing Into Your Being" and "The Great Stillness." Two CDs, "The Tao of Letting Go" and "Ancient Songs of the Tao," shed valuable insights into the power of TAO Meditation in helping people let go of their deepest emotional blockages and move closer to becoming truly alive, balanced and joyful.

When Frantzis moved to China to follow the Taoist path of warrior/healer/priest, he was extensively trained in the chi principles and practices that are the basis of Chinese medicine. From 1974 to 1979, he trained with high-level chi gung tui na (therapeutic energy work) doctors and apprenticed under their tutelage in Chinese medical clinics. He learned to use chi to help heal a wide range of conditions including broken bones, nerve and organ damage and cancer. He also gained an advanced acupuncture degree.

Frantzis used these chi principles and practices to dramatically heal himself: first from a life-threatening form of hepatitis in India and more dramatically from massive spine injuries that he received in a car accident in 1981.

Frantzis' experiences have made him a teacher with a mission: teaching people how the ancient and proven self-healing chi practices can help them achieve health, relaxation, inner peace and longevity. He aims to help avert a major health crisis that threatens to engulf the Western world.
Praise For The Chi Revolution: Harnessing the Healing Power of Your Life Force…
"Bruce Frantzis is a true Taoist master."
—MICHAEL E. GERBER, author of The E-Myth Revisited

"B. K. Frantzis' style of teaching demystifies ancient Chinese Taoist arts that have rarely, if ever, been taught in the West."
—Elizabeth Whitney, Yoga Journal
Advertisement