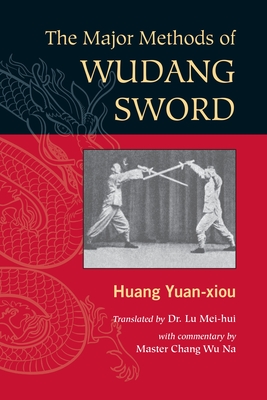 The Major Methods of Wudang Sword
Paperback

* Individual store prices may vary.
Description
Originally published in Chinese in 1930, The Major Methods of Wudang Sword has become a contemporary classic in the field of traditional Chinese martial arts. Written by Huang Yuan Xiou, the disciple of Li Jing-Lin—China's most celebrated sword practitioner—this edition now introduces English readers to the fascinating world of traditional Chinese swordplay.

Immensely popular in China, Wudang sword contains within its techniques the essence of the internal martial arts of Taiji Quan, Xingyi Quan, and Bagua Zhang. Unlike other books of its time, The Major Methods of Wudang Sword explores the practical application of its techniques rather than simply introducing a solo form. This helps readers and students of any style and background discover new insights and gain new approaches to personal practice. The book also emphasizes the internal aspects of swordfighting, including mental and meditative techniques. Translated by Dr. Lu Mei-hui and with expert commentary by Master Chang Wu Na—two contemporary disciples of Wudang sword— and featuring dozens of black and white photos from the original Chinese edition, The Major Methods of Wudang Sword unlocks the secrets of Wudang swordplay for both novice and advanced practitioners.
Praise For The Major Methods of Wudang Sword…
"In this book, two modern masters of Wudang Sword provide a deep understanding and historical review of this ancient art through the eyes of Master Huang Yuan Xiou. I have been fortunate to have known Dr. Lu Mei-hui and Master Chang Wu Na for two decades and still stand in awe of their unbridled commitment and loyalty to one of the highest-regarded skills in all of martial arts. Wudang Sword practice teaches how to develop one's inner strength or Jing, transform it into Qi, convert it into Shen, and finally achieve Xu—abilities that are not only essential for this art but also for many other internal and external martial arts. It is evident that Wudang practitioners, other martial artists, and those exploring their own personal cultivation will benefit greatly from this written achievement."
—Sifu Julio R. Ferrer (Wu Liu), director, Integrative Wing Chun, Pacific Northwest region
Blue Snake Books, 9781583942390, 136pp.
Publication Date: April 13, 2010
About the Author
Huang Yuan Xiou was a prominent swordsman and author. Master Chang Wu Na and Dr. Lu Mei-hui are, respectively, president and vice president of the International Wudang Internal Martial Arts Association. Both live and teach in Seattle.
or
Not Currently Available for Direct Purchase