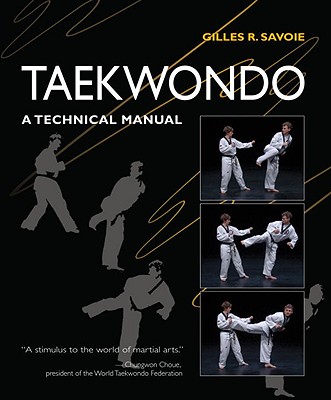 Taekwondo: A Technical Manual (Paperback)
A Technical Manual
Blue Snake Books, 9781583942413, 166pp.
Publication Date: May 18, 2010
Description
In Taekwondo: A Technical Manual, renowned Master Gilles Savoie presents the art and science of the popular martial art, showing practitioners how to optimize both body and spirit. While other taekwondo books simply document traditional forms andexercises, this one goes further, providing an in-depth look at the body mechanics and physics of taekwondo movements. Armed with this information, says Master Savoie, the practitioner can improve control, optimize speed, increase power, and maintain balance. The book details the author's innovative "hip propel" technique, designed to utilize the parts of the body as a four-lever system able to efficiently displace weight and create force. Taekwondo: A Technical Manual not only teaches optimal taekwondo technique but emphasizes visualization, balance, and overall well-being to enhance athletic abilities, fusing the physical and philosophical components of the art. Also included is an introduction to reflexology theory, teaching basic techniques to help taekwondo practitioners relax and self-treat common muscle aches and pains. Seventy black-and-white photographs and diagrams illustrate each of the movements and techniques described.
About the Author
Master Gilles R. Savoie began martial arts training at the age of nine. A seventh-dan black belt in taekwondo, he conducts seminars and presentations on the biomechanics of the sport. He is the technical director of the taekwondo association in Quebec, where he lives. Dr. Chungwon Choue is the president of the World Taekwondo Federation. Grandmaster Kee S. Ha is the president of the Taekwondo Association of Canada.
Praise For Taekwondo: A Technical Manual…
"This book is an incentive to all taekwondo practitioners to progress in their mental and physical practice. For those with an interest in taekwondo, this book can be considered a stimulus to the world of martial arts."
—Chungwon Choue, President of the World Taekwondo Federation

"Master Savoie is clearly committed to the highest taekwondo principles and philosophy. His passion for taekwondo and his commitment to its traditions are the marks of a distinguished and dedicated martial artist and master."
—Grandmaster Kee Ha, President of the Taekwondo Association of Canada
Advertisement