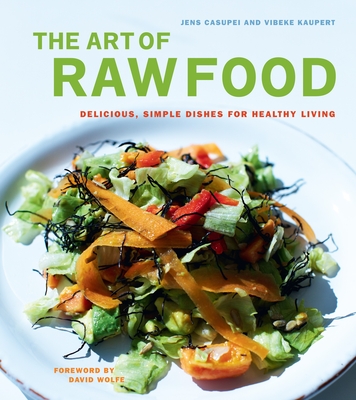 The Art of Raw Food: Delicious, Simple Dishes for Healthy Living (Hardcover)
Delicious, Simple Dishes for Healthy Living
North Atlantic Books, 9781583942475, 299pp.
Publication Date: May 24, 2011
Description
Raw food is for everyone, say the authors of one of Denmark's best-selling cookbooks, and they make a compelling case for that claim. Equally at home on the coffee table or in the kitchen, The Art of Raw Food features gorgeous four-color photography and delicious yet simple raw food recipes as well as a background on the benefits of a raw food diet. Jens Casupei and Vibeke Kaupert, raw food enthusiasts with a flair for style as well as a passion for healthy living, introduce readers to the good (raw food), the bad (processed food), and the ugly (how processed food can make you feel). Sixty pages of information on health and diet are followed by 260 pages of mouth-watering recipes.

In 140 recipes, the authors cover breakfast (Delicious Buckwheat Porridge); shakes and smoothies (Orange and Blackcurrant Shake); soups (Light and Fluffy Pepper Bisque); main dishes (Chili Sin Carne); soups, dips, and patés (Olive Tapenade); desserts (Pineapple Carpaccio with Berry Coulis); snacks (Quetzalcoatl Chocolate); and sauces and dressings (Sunflower and Beetroot Sauce). A terrific introduction to the world of raw foods for any newcomer, Raw Food offers plenty of diverse and unique recipes for every occasion.

The Art of Raw Food official website: http://theartofrawfood.com/
About the Author
Jens Casupei is a self-taught cook with a talent for combining simplicity and style. He offers raw food lectures and workshops, consults with raw food restaurants, and is a member of the Danish raw food group, The Raw Tribe. He lives in North Sealand, Denmark.

Designer Vibeke Kaupert has collaborated on several cookbooks, including one for the famous Danish restaurant, Kong Hans, and in 2007 one of her books received the Gourmand World Cookbook Award. She is also a member of The Raw Tribe. She lives on Moen Island, Denmark.
Praise For The Art of Raw Food: Delicious, Simple Dishes for Healthy Living…
"The Art of Raw Food delivers a practical guide to understanding a raw food diet as well as to preparing uncooked, plant-based cuisine. Jens and Vibeke artistically deliver a menu that is rich in cancer-fighting and heart-healthy fruits, vegetables, nuts, seeds, seaweeds, sprouts, herbs, and even some superfoods! . . . . The Art of Raw Food is definitely for the entire family to enjoy. . . . Extraordinary recipes and beautiful photos!"
—David Wolfe, author of The Sunfood Diet Success System, Eating for Beauty, Superfoods, Naked Chocolate, and Amazing Grace

"With this full-color, photograph-filled cookbook, raw food devotees and newcomers alike can enjoy delicious and healthy raw recipes that are rich in cancer-fighting and heart-healthy ingredients. The book covers the importance of enzymes in metabolism, the effects of processed foods, and the environmental benefits of going raw."
—Taste for Life magazine

"This book is a great hardcover, with amazing pictures and in a simple, easy to use, format… While there are some great simple recipes, like asparagus with a raw hummus or olive tapenade, there are also some more advanced dishes like a Chili sin Carne (kind of like a raw jambalaya)."
—Ridgefield Wellness

"I read cookbooks like novels and absolutely devoured The Art of Raw Food.  The information provided within the book is so eloquent and the photography is so simple and striking. … It is clear that the recipes in the book are meant to enrich, satisfy, and energize our bodies naturally. … This un-cookbook has definitely earned a permanent spot on my bookshelf."
—Veggie Grettie
Advertisement