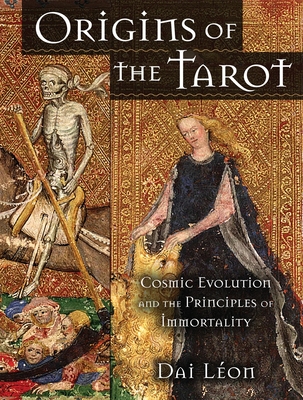 Origins of the Tarot
Cosmic Evolution and the Principles of Immortality
Paperback

* Individual store prices may vary.
Description
Conventional wisdom traces Tarot cards to medieval Italy, but their roots go back much further in time and draw on a surprisingly rich variety of cultures and spiritual traditions. Combining pioneering scholarship with practical spiritual instruction, Origins of the Tarot is the first book to unveil the full range of the ancient streams of wisdom from which the Tarot emerged.The timeless principles of conscious realization and cosmological unfoldment underlying the Tarot have never been explored in a comparably extensive and detailed way: herein the teachings of a tremendous range of traditions, including Kabbalah, Western esotericism and alchemy, Buddhism, Taoism, yogic disciplines, Sufism, mystical Christianity, Gnosticism, and Neoplatonism, are masterfully incorporated and synthesized.Author Dai Léon explores a confluence of philosophical schools from East and West as they relate to the Tarot, giving each its due in the exposition of a universal procession of evolution and the soul's quest for enlightenment. In the process, the Tarot is seen as a unique exemplification of perennial teachings on the soul and its liberation, as well as a still-unfolding window into concealed currents of human history. The book's profound learning and unprecedented range of references are sure to attract close study among students both of the world's most enduring esoteric tradition and of esotericism itself.
Praise For Origins of the Tarot: Cosmic Evolution and the Principles of Immortality…
"A 'must read' book for anyone who is interested in the Tarot but also wants to take the study beyond purely divinatory readings. Highly recommended."
—Primordial Traditions magazine

"The book's profound learning and unprecedented range of references are sure to attract close study among students both of the world's most enduring esoteric tradition and of esotericism itself."
—Gaia Media

"Reading Origins of the Tarot was a body-mind-spirit resonance of Bliss with the Beloved for me. It is a rare book that touches so profoundly into the heart of our individual and collective soul."
—My Sacred Journey

"I would recommend this book for intermediate or advanced Tarot students. It is also one of those things that comes into your life, but you set it aside for use at a later date. Don't worry – that later date will come!"
—Aeclectic Tarot
Frog Books, 9781583942611, 560pp.
Publication Date: June 30, 2009
About the Author
A lifelong student of East-West philosophy and contemplation, Dai Léon has served for twenty-five years as a cultural emissary between modern and traditional, scientific and spiritual domains. He promotes the rich benefits of holistic and interdisciplinary studies and practices with respect to perennial wisdom traditions throughout the world. His primary retreat is on Waiheke Island, New Zealand.Dai began his studies of esoteric ritual, yoga, alchemy, and martial arts at the age of eight in France, where he was raised as a youngster. As a Catholic altar boy, he realized that he was destined to a life of spiritual awareness and service. He was subsequently schooled in America as a young mathematics savant during the 1960s and '70s, when esoteric knowledge, meditation, yoga, and body movement were mixing together, flowering into a postmodern mélange of beauty and wisdom. From that heady mix of cultural alchemy emerged new paradigms of science and a re-appreciation for traditional nondual understandings of philosophy. Lao Tzu met Plotinus and Einstein, and the world has never been the same since.After studying the philosophies and spiritual ways of the great traditions at the University of Illinois, Dai was invited to directly study under the Venerable Gia-fu Feng, head of Stillpoint Foundation in Colorado. Adept Feng had been a co-founder of Esalen Institute at Big Sur, California, and was renowned as a founding father of the East-West movement, merging nondual traditions from China to Spain to America. In the spring of 1978, Sifu (indicating "monk" or "teacher") Dai Sealed Heart-Mind with Master Feng (a traditional method of Lineage or Dharma Transmission). Following this, it was requested that he teach the Tao that is none other than the One of Heraclitus, Plotinus, and Western wisdom through the ages.Dai has authored several books and interactive media titles. He has served as a Director of multicultural, educational, interactive companies for twenty-five years. Since 1994 he has advised industry and governmental bodies on the socio-cultural impact of financial, wellness, and interactive technologies. Through many forms of media, with a particular love and focus upon that of the ecstatic body-mind, Dai has taught in a traditional yet postmodern way. His flowing mantra is to empower, enlighten, and entertain.