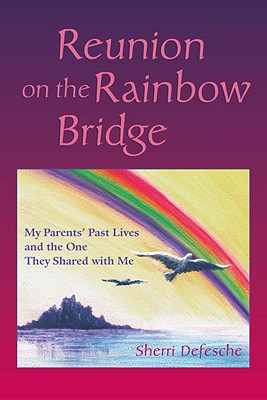 Reunion on the Rainbow Bridge: My Parents' Past Lives and the One They Shared with Me (Paperback)
My Parents' Past Lives and the One They Shared with Me
Frog in Well, 9781583942659, 239pp.
Publication Date: August 25, 2009
* Individual store prices may vary.
or
Not Currently Available for Direct Purchase
Description
In 1953, Sherri Defesche's parents, Jim and Shirley Swanson, were married in a hospital room just ten days after a car accident had left Shirley a paraplegic. She was only 17 at the time, while Jim was 20. What followed, despite the hardships they faced, was a 46-year love affair blessed with unconditional love, joy, and four happy children. When Shirley died in 1999, a grief-stricken Defesche began to explore her deepest beliefs about death, eventually discovering Eastern spiritual philosophies about the afterlife and the possibility of past lives. This book is the moving chronicle of her journey and what she found.
Defesche details her meeting with a past-life regression therapist, who helps her discover that her parents had been soul mates over more than 200 incarnations. From Lemurians living in paradise to Celtic children in Scotland, from a Chinese farming family to World War I heroes, her parents past lives provide the author with a sweeping historical context that helps her to understand the undying nature of her parents soul connection and love, and why human beings continue to incarnate across eons.
About the Author
Sherri Defesche lives in Austin, TX, with her family. She explores the topics of grief and loss, spirituality, and love in her writing.
Praise For Reunion on the Rainbow Bridge: My Parents' Past Lives and the One They Shared with Me…
"Defesche seeks to reveal, beyond the present, ephemeral lives of her parents, their eternal soul identities … and a profound love for one another that has endured throughout many lifetimes. Together again and again, from ancient Lemuria to twentieth-century America, Jim and Shirley reveal themselves in their daughter's investigations as light bearers to the last."
—Catherine Rainwater, PhD, author of Dreams of Fiery Stars and Figuring Animals

"Reunion on the Rainbow Bridge reveals a unique perspective on the soul's journey…. When two people communicate with each other beyond the doorway of death, their messages teach us that love transcends many lifetimes, and we are given hope through knowing that the circle of love never dies."
—Linda Drake, intuitive medium and author of Reaching Through the Veil to Heal

"Sherri Defesche brings forth a powerful message of love, hope, and the continuance of humanity through the ages…. A must read for everyone who is seeking answers."
—Julia Hanson, healer, channel, and author of Awakening To Your Creation

"Sherri Defesche follows her heart, breaking from the shackles of orthodoxy to find a faith resonating with her core being. On her journey, the author discerns new ideas about our place in the cosmos, the continuum of life, and the very meaning and purpose of our existence. She ultimately concludes on the very thing she knew from the beginning—it's all about love."
—Mark Ireland, author of Soul Shift
Advertisement