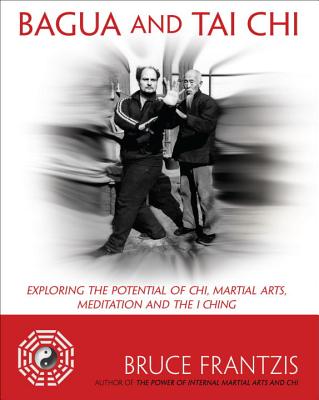 Bagua and Tai Chi
Exploring the Potential of Chi, Martial Arts, Meditation and the I Ching
Paperback

* Individual store prices may vary.
Description
In Bagua and Tai Chi, noted teacher Bruce Frantzis demonstrates through these two important practices what is required to develop and embody high levels of chi flow. Inside the slow-motion movements of tai chi is a sophisticated mind/body/spirit practice. Derived from the I Ching (Book of Changes), bagua is unique in its circular movements, spiraling energy, and unpredictable changes of direction.
 
Frantzis begins with an overview of both bagua and tai chi and their origins in Chinese culture, followed by comprehensive advice on how to incorporate these practices into daily Western life. Written in an easy, conversational style, the book provides an explanation of an art that is practiced by millions in China to release stress and maintain a vigorous level of health. According to the National Center for Complementary and Alternative Medicine (NCCAM), the 2.3 million Americans who currently practice tai chi report improved sleep, conditioning, and overall wellness. Bagua and Tai Chi offers a gentle healing and strengthening system that will appeal to a wide audience, including martial artists, meditators, dancers and athletes, personal trainers, and anyone looking to reduce stress and increase calmness and clarity through an effective, low-impact body practice.
Praise For Bagua and Tai Chi: Exploring the Potential of Chi, Martial Arts, Meditation and the I Ching…
"Bruce Frantzis is the successor and inheritor of Lao Tse's Water method of Taoist meditation passed down by his teacher, Liu Hung Chieh. Frantzis presents a uniquely experiential approach to the I Ching as a living manual on how change manifests at all levels of existence. Frantzis' ability to communicate his comprehensive understanding of the health, fighting and meditation aspects of bagua allows the student to experience in body, mind and spirit the profound embodied wisdom of the I Ching's spiritual vision." —Alan Peatfield, PhD, Lecturer in Archaeology at University College Dublin, Ireland

"While martial arts was initially founded in self-defense, it has proved an avenue to the calm that we all seek. Bagua and Tai Chi: Exploring the Potential of Chi, Martial Arts, Meditation, and the I Ching is a study of these disciplines, as Bruce Frantzis relays the teachings from Lineage Master Liu Hung in how to use Tai Chi and Bagua to embrace greater health, clear one's mind, find relaxation, and even how to use it for defensive purposes. Bagua and Tai Chi is an intriguing pick for those who enjoy the martial arts for any self-improvement purposes." —Midwest Book Review
Blue Snake Books, 9781583943595, 240pp.
Publication Date: January 31, 2012
About the Author
By the time he was 18 years old, Bruce Frantzis had earned black belts in karate, judo, jujitsu, iaido, and aikido. He has trained over 10,000 students in tai chi, bagua, qigong, breathing, and other Taoist energy arts. He lives in San Anselmo, CA.
or
Not Currently Available for Direct Purchase