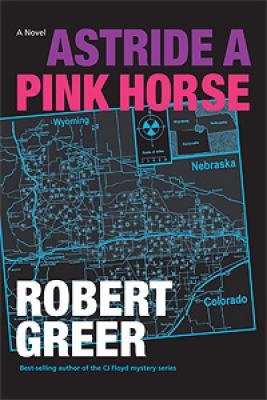 Astride a Pink Horse (Hardcover)
North Atlantic Books, 9781583943694, 376pp.
Publication Date: March 27, 2012
Other Editions of This Title:
Paperback, Large Print, Large Print (6/1/2012)
* Individual store prices may vary.
Description
The Cold War ended years ago, or did it? For Thurmond Giles, a decorated African American Air Force veteran found naked, dead, and dangling by his ankles inside a deactivated minuteman missile silo in desolate southeastern Wyoming, the answer is no. The labyrinthine investigation that follows his death led by former fighter pilot Major Bernadette Cameron and ex-college baseball phenom-turned-reporter Elgin Cozy Coseia reveals how the atomic era's legacy has continued to destroy both minds and lives.
"Astride a Pink Horse" follows Bernadette, Cozy, and Cozy's boss Freddie Dames match wits with a gallery of unforgettable murder suspects: a powerful, right-wing-leaning cattle rancher; a declining seventy-six-year-old WWII-era Japanese internment camp victim and her unstable math professor cousin; an idealistic lifelong nuclear arms protestor; and a civilian Air Force contractor with a twenty-year grudge against the murder victim. Do three amateur detectives stand a chance against these characters and the conspiracy that may be behind it all? Robert Greer's trademark mix of vivid eccentrics, surprising plot twists, and political edge makes this one of his most memorable thrillers.
About the Author
Robert Greer is a professor of pathology, medicine, dermatology, and dentistry at the University of Colorado Anschutz Medical Campus in Aurora, where he specializes in head and neck pathology and cancer research. The author of nine CJ Floyd mysteries, including "The Devil s Hatband, " "The Mongoose Deception, "and "First of State, "as well as two medical thrillers, he reviews books for KUVO, a Denver NPR affiliate. Learn more about Robert Greer at www.robertgreerbooks.com."
Praise For Astride a Pink Horse…
"Greer takes a new direction from his popular series character, CJ Floyd (Blackbird, Farewell), and I hope [new characters] Bernadette and Cozy will be back soon. The refreshingly eccentric cast and elaborately structured plot make for an engrossing tale. Think Elmore Leonard, Brad Parks, and Craig Johnson."
—Library Journal

"Greer's writing style is relaxed and redolent of experience, spinning a tale of opportunities lost, delayed revenge, and unexpected life-changing events that breathe life into the characters without overwhelming their personalities. The twists and turns of the investigation are deftly handled; nothing feels out of place or illogical in the scenes or the transitions from one character's viewpoint to another. … Lovers of mystery (in particular, the evocation of place that Tony Hillerman achieved in his novels set in the Southwest) will find Astride a Pink Horse well worth their time."
—ForeWord magazine 

"Greer, best known for his always engaging CJ Floyd mysteries, steps outside his comfort zone here. Time will tell if his three protagonists make another appearance-that would be a good thing, and Greer leaves the door open-but the tone is different here from the sometimes dour Floyd novels. The banter among the trio is light; sly humor abounds; and though the crime is awful and the motives dark, the reader will enjoy the journey to a satisfying resolution."
—Booklist
"This book is a must-read for action fans."
—LibraryThing
"Greer's dialogue is sharp and natural, at times very witty.
Astride a Pink Horse
is simultaneously fun and thought-provoking, entertaining and heart-breaking."
—Jen's Book Thoughts
or
Not Currently Available for Direct Purchase