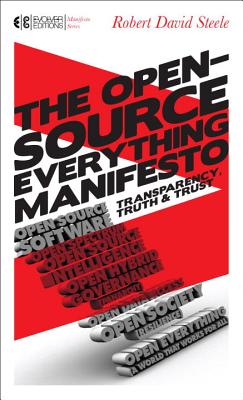 The Open-Source Everything Manifesto (Paperback)
Transparency, Truth, and Trust (Manifesto Series #2)
EVOLVER EDITIONS, 9781583944431, 240pp.
Publication Date: June 5, 2012
* Individual store prices may vary.
Description
What the world lacks right now—especially the United States, where every form of organization from government to banks to labor unions has betrayed the public trust—is integrity. Also lacking is public intelligence in the sense of decision-support: knowing what one needs to know in order to make honest decisions for the good of all, rather than corrupt decisions for the good of the few.
The Open-Source Everything Manifesto is a distillation of author, strategist, analyst, and reformer Robert David Steele life's work: the transition from top-down secret command and control to a world of bottom-up, consensual, collective decision-making as a means to solve the major crises facing our world today. The book is intended to be a catalyst for citizen dialog and deliberation, and for inspiring the continued evolution of a nation in which all citizens realize our shared aspiration of direct democracy—informed participatory democracy. Open-Source Everything is a cultural and philosophical concept that is essential to creating a prosperous world at peace, a world that works for one hundred percent of humanity. The future of intelligence is not secret, not federal, and not expensive. It is about transparency, truth, and trust among our local to global collective. Only "open" is scalable.

As we strive to recover from the closed world corruption and secrecy that has enabled massive fraud within governments, banks, corporations, and even non-profits and universities, this timely book is a manifesto for liberation—not just open technology, but open everything.
About the Author
Robert David Steele is an internationally acclaimed intelligence professional with 30 years' experience as a clandestine and covert operations officer. A foremost international proponent for open-source intelligence, Steele has been a keynote speaker at many venues, including Hackers on Planet Earth, Gnomedex, L-3 Communications, the Department of State, and the Department of Homeland Security. A regular contributor to the International Journal of Intelligence and Counterintelligence, he has published nine books on intelligence and information operations. His work has also appeared in TIME, Forbes, and the Journal of Conflict Resolution.
Praise For The Open-Source Everything Manifesto: Transparency, Truth, and Trust (Manifesto Series #2)…
"Steele's book is a must-read, a powerful yet still pragmatic roadmap to a new civilisational paradigm that simultaneously offers a trenchant, unrelenting critique of the prevailing global order. His interdisciplinary 'whole systems' approach dramatically connects up the increasing corruption, inefficiency and unaccountability of the intelligence system and its political and financial masters with escalating inequalities and environmental crises."
— Nafeez Ahmed, The Guardian

"I found it refreshing to read such a powerful and all-encompassing approach to the eternal problem of hierarchy and how so few people are currently determining the destiny of so many individuals on this planet." —Peter J. Morris, Writer and Blogger

"If you have ever thought that the U.S. intelligence system is structurally dysfunctional you will not be disappointed by Steele. The bottom line is that if you satisfied with a status quo which operates on the basis of "a top-heavy, opaque, centralized, and rigidified system that misses the big picture and rewards a few at the expense of the many," then don't read Steele's book." —Huffington Post

"Robert Steele is about 100 times as smart and 10,000 times as dangerous as the best of the hackers, for he is successfully hacking the most challenging of bureaucracies, the U.S. intelligence community, and doing it for the right reasons."
—Bruce Sterling, Wired magazine and author of Hacker Crackdown: Law and Disorder on the Electronic Frontier

"Few have thought as deeply or imaginatively about such questions as a super-smart former Marine and intelligence officer named Robert D.
Steele.…"
—Alvin and Heidi Toffler, authors of War & Anti-War: Survival at the Dawn of the 21st Century
 
"Robert Steele is unusual for an American … he is clearly internationalist in his orientation. He has written a book that can bring us together in facing our greatest enemies: ignorance, poverty, and mistrust."
—Rear Admiral Hamit Gulemre Aybars, Turkish Navy (Retired)
 
"Robert Steele's vision for the future of intelligence is clearly 'internationalist' in nature. It focuses on regional partnerships … and on the value of open source intelligence collection."
—Rear Admiral Dr. Sigurd Hess, DE N(Ret), Former Chief of Staff, Allied Command Baltic Approaches
 
"Constantly committed to truth and honesty, [his work] demonstrates his ability to grasp the real issues and to take into account the views and concerns of men of good will from all nations and all cultures."
—Admiral Pierre Lacoste, French Navy (Ret), Former Director of Foreign Intelligence (DSGE)
 
"Robert Steele goes well beyond the original visions of the best of the Directors of Central Intelligence, and has crafted a brilliant, sensible, and honorable future for the intelligence profession."
—Major General Oleg Kalugin, KGB (Ret), Former Elected Deputy to the Russian Parliament
 
"Over a broad canvas reflecting the changing nature of information and information technologies, Robert Steele lays the foundation for the future of e-intelligence."
—Commodore Patrick Tyrrell, OBE, Royal Navy, United Kingdom
 
"Steele consistently has been well ahead of the pack in his appreciation for everything from open source research to the implications of technology … his work thrills with its insights and ideas."
—Ralph Peters, author of Fighting for the Future: Will America Triumph?
 
"Steele's concept is simple: Empower the citizen and private sector to gather and analyze intelligence so that we can make informed decisions [using] Open Source Intelligence gathering [that] is faster, smarter, cheaper…"
—Robert Young Pelton, author of World's Most Dangerous Places and producer of Come Back Alive
 
"Robert Steele deserves our admiration and our focused attention for bringing the idea of open source information to the fore. His passion to serve the nation by developing this new approach … is exemplary."
—Lieutenant General Patrick Hughes, U.S. Army (Retired), Former Director, Defense Intelligence Agency

"...a minefield of political and economic awakenings... a visionary worth paying serious attention to." 
—Open Spectrum Inc.
or
Not Currently Available for Direct Purchase