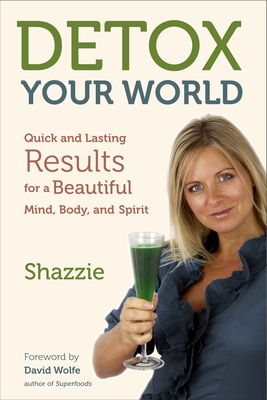 Detox Your World (Paperback)
Quick and Lasting Results for a Beautiful Mind, Body, and Spirit
North Atlantic Books, 9781583944509, 440pp.
Publication Date: July 17, 2012
* Individual store prices may vary.
Description
In this complete detox guide, Shazzie identifies the most dangerous toxins in your environment and provides detailed detox plans and over 100 raw-food recipes to help you stay clean and healthy. If you've eaten a typical Western diet (whether meat-based or vegetarian) all your life, you will eventually start to feel under the weather, depressed, overweight, or ill. By lightening your diet and shedding the toxins accumulated from your environment, you can alleviate and even remove these problems from your life. You will be amazed at the results:
 
• Enthusiasm for life
• Deep happiness and bliss
• A clearer and calmer mind
• More energy than you had as a child
• Natural weight loss and maintenance
• Flawless skin, great muscle tone, and a younger appearance
About the Author
Shazzie has been a vegan since 1986 and a raw foodist since 2000. She is the author of five raw food and detox books including Naked Chocolate, coauthored with David Wolfe. Over the past decade, Shazzie has presented lectures and workshops around the world. She is an active online promoter via her website (shazzie.com) and blog (shazzie.com/blog) and has been featured in the media worldwide. In 2011 her new TV show premiered, Raw Kitchen. As the world's first-ever raw-food TV show, it's found on The Active Channel Sky 281, the UK's biggest health and fitness channel.
Praise For Detox Your World: Quick and Lasting Results for a Beautiful Mind, Body, and Spirit…
"Having been personally nourished by Shazzie's amazing food, I find her recipe section particularly enticing. She has created every different kind of meal—more than one could ever desire.... Shazzie is, in my opinion, Britain's leading health authority."—from the foreword by David Wolfe

"Detox Your World is a book that will change your life and the author, Shazzie, is an absolute marvel of a model for the message. Energetic, knowledgeable, enthusiastic, and years younger to look at than she really is, Shazzie delivers her proven methods to promote wellness and the fountain of youth in the must-read, Detox Your World. This book will challenge you but I promise the challenge is worth rising to."—Eldon Taylor, PhD, bestselling author of What If? and What Does That Mean?
 
"I very much like Detox Your World: it is practical, detailed, warm, enthusiastic, and just plain true. Some books brighten your day; here's one that will brighten your whole life."—Andrew Saul, Editor and Publisher of www.DoctorYourself.com
 
"Shazzie has an authenticity that runs through everything she does. Detox Your World is a fabulous guide to help awaken and transform its readers. Her steps to total wellbeing are really inspiring. For anyone starting out on a raw food or detox journey, this book should be their first read! It is encouraging, informative, honest and written with heart … as only Shazzie can!"—Glenn Harrold, Celebrity Hypnotherapist and bestselling author of Sleep Well Every Night and Lose Weight Now

"When Shazzie visited my restaurant, Pure Food and Wine, in New York City, I felt as if I was meeting a long-lost sister, as if we'd known each other for ages. She has that kind of warm and welcoming presence. Detox Your World is full of unique yet practical tips and beautiful recipes to make the whole world glow with health."—Sarma Melngailis, author of Living Raw Food and owner of Pure Food and Wine and One Lucky Duck

"In this new book from the bestselling author of Shazzie's Detox Delights, the health and wellness expert exposes where toxins are lurking (from cell phones to the fluoride in toothpaste) and how to avoid or remove them. … Perhaps most compelling is Shazzie's message about the benefits of raw food. … The author includes more than 100 of her favorite detox recipes with the goal of transforming readers' lives in a similar way." —Natural Health Magazine

"Shazzie covers it all: from skin care products to fluoride, from illness to the Five Tibetan Rituals, from enemas to superfoods, or green juicing to detoxing your mind. If you're ready to take charge of your well being, or just need a little more inspiration and direction, this book provides everything you'll need to take that first step, and to continue along a healthful path of awakening and transforming your body, mind, and spirit." —New Consciousness Review

"From recipes that are packed with flavor to steps to achieving total health, [Detox Your World] covers everything from handling colds and stress to achieving optimum energy and benefit from a detox regimen." —Midwest Book Review
or
Not Currently Available for Direct Purchase