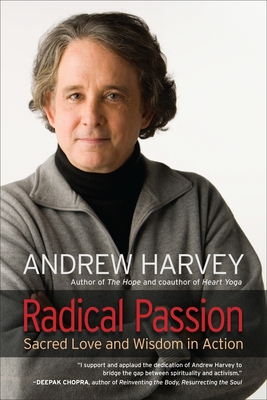 Radical Passion
Sacred Love and Wisdom in Action
Paperback

* Individual store prices may vary.
Description
This culmination of award-winning author Andrew Harvey's life's work bridges the great divide between spiritual resignation and engaged spiritual activism. A manifesto for the transformation of the world through the fusion of deep mystical peace with the clarity of radical wisdom, it is a wake-up call to put love and compassion to urgent, focused action. According to Harvey, we are in a massive global crisis reflected by a mass media addicted to violence and trivialization at a moment when what the world actually needs is profound inspiration, a return to the heart-centered way of the Divine Feminine, the words of the mystics throughout the ages, and the cultivation of the nonviolent philosophies of Gandhi, Nelson Mandela, Aung San Suu Kyi, and the Dalai Lama.
 
Harvey's concepts of radical passion and sacred activism fly in the face of restraint, of pessimism, of denial, of all that is inhumane, fusing the mystic's passion for God with the activist's passion for justice and for healing the division between heaven and earth, heart and will, body and soul, prayer and action. Sacred activism asks that we engage deeply on a personal, spiritual, and political level so as to become a fully empowered, fully active, and contemplative humanity that can turn tragedy into grace, and desolation into the opportunity to build and co-create a new world.
 
Unlike many spiritual books, Radical Passion does not veil the dark with artificial hope. It explores the catastrophes of our current times and celebrates the ecstatic hope and divinity that is possible—right now and in the future.
Praise For Radical Passion: Sacred Love and Wisdom in Action…
"It is not often that one individual responds to the yearnings of a generation the way that Andrew Harvey responds to the times in which we live. His piercing intellect and enormous heart bring together an understanding of our age as well a non-violent strategy for addressing its challenges. His Institute for Sacred Activism is one of the most hopeful and powerful resources at our disposal for turning the frustration and despair of millions into a wave of positivity. Harvey's work stands out as beacon of hope to whoever longs for a more beautiful, just, and peaceful world."
—Marianne Williamson, author of The Age of Miracles
 
"Andrew Harvey is a genius and an inspired visionary who has the ability to interpret the meaning and significance of the chaos and patterns of change that are redirecting the compass of our contemporary culture. He is a spiritual, intellectual, and cultural mystic whose passion is to awaken people to a new and essential empowerment in this world: Sacred Activism. … His passion clearly reveals that his soul is on fire with a grace that comes from the Divine."
—Caroline Myss, author of Anatomy of the Spirit and Sacred Contracts

"Radical Passion is both a trip and a pilgrimage, a deep journey of stories, conversations, interviews, and reflections on and with such notable spiritual figures as the Dali Lama, Fr. Bede Griffiths, Rilke, Rumi, and Hermann Hesse. Harvey brings alive good news about how to wake up and shape up before we destroy ourselves and the planet. Filled with wisdom and joy, reality and pain, critical analysis and practical tools, this book is sure to enrich and inspire all who enter its field."
—Matthew Fox, theologian and author of Original Blessing, The Coming of the Cosmic Christ, Christian Mystics, The Pope's War, and Hildegard of Bingen: A Saint for Our Times
North Atlantic Books, 9781583945032, 592pp.
Publication Date: October 23, 2012
About the Author
The author of more than two dozen books, Andrew Harvey began his study and practice of Hinduism in 1978 after meeting a succession of Indian saints and sages. He has studied with masters such as Thuksey Rinpoche and Father Bede Griffiths for more than 30 years. Harvey was awarded the Christmas Humphrey prize for A Journey in Ladakh, the Humanities Team Award (an award previously received by Desmond Tutu) for his 2010 body of work, and a Nautilus Award for his book The Hope:A Guide to Sacred Activism. He is founder and director of the Institute of Sacred Activism.
or
Not Currently Available for Direct Purchase