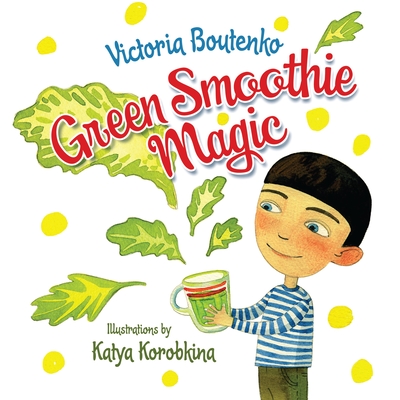 Green Smoothie Magic
Hardcover

* Individual store prices may vary.
Description
Victoria Boutenko responds to the crisis of childhood obesity with a story that makes children excited about nutrition, healthy foods, vegetables and fruits, green smoothies, and the science of plants.
 
This kids' book follows young Nic as he discovers the importance of healthy eating with a plant-rich diet and learns to invent his own healthy recipes for kids.
 
With a pilot father and an artist mother, Nic is an inquisitive child with a fondness for magic. One day, he asks his father where trees come from and is amazed to learn they come from small acorn seeds that grow powered by the sun. His father tells him about the magical green juice, chlorophyll, in all plants. Since humans can't grow with sunlight alone and we don't make our own magical green juice, we need to eat plants to grow big and strong like the oak trees Nic is so fascinated by.
 
Eager to grow big and strong, Nic goes home that night determined to eat more vegetables. He's quickly disheartened when he is put off by the bitter taste of lettuce. But his mother thinks of a way to ensure he can have a tasty, healthy diet. Buying a blender the next day, she whips up some raw-food green smoothie magic. Nic is hesitant at first, but his natural curiosity wins out, and he is soon asking for seconds.
 
The story ends with Nic's own smoothie recipe. Combining sweet fruits with green vegetables, this kids' food recipe promises to be a favorite with children and picky eaters everywhere.
Praise For Green Smoothie Magic…
"56 fully color-illustrated pages about plant magic was easily digestible to my chapter-book-reading vegan daughter. I left it on the kitchen table, knowing she'd see it. Presto! She read it in one sitting over breakfast and when I asked her what she thought, she said 'Three stars. [out of three] And I want to make the recipe in the back.' Score! This book is a winner ... especially since it interests her in eating green."
—Huyen Macmichael, reviewer for VegBooks.org

"Green Smoothie Magic is a captivating story of an adventurous boy who learns how to be healthy in an enjoyable way. … Positive and empowering"
—Evolving Wellness

"[Green Smoothie Magic is] a wonderful kids book that serves as a response to the crisis of childhood obesity with a story that makes children excited about nutrition and healthy foods. … What I loved [about the story] is how making the smoothie involved the entire family and showed the importance of getting kids involved in making their own food."
—Michelle Carr, blogger at Until Every Cage
North Atlantic Books, 9781583946015, 56pp.
Publication Date: September 10, 2013
About the Author
Victoria Boutenko is the award-winning author of Green For Life, Green Smoothie Revolution, Raw Family, 12 Steps to Raw Foods, and Raw Family Signature Dishes. A raw gourmet chef, teacher, inventor, researcher, and artist and the mother of three, Boutenko teaches classes on healthy living all over the world. As a result of her teachings, millions of people are drinking green smoothies and eating raw food.
 
Katya Korobkina is a professional illustrator known to young readers for the warm and friendly characters that she creates with her art.
or
Not Currently Available for Direct Purchase