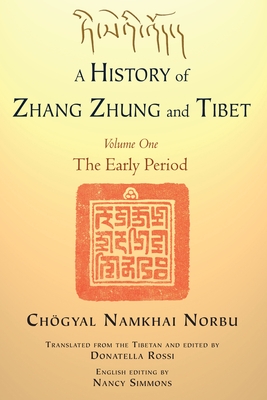 A History of Zhang Zhung and Tibet, Volume One: The Early Period (Paperback)
The Early Period
North Atlantic Books, 9781583946107, 261pp.
Publication Date: May 14, 2013
Description
An account of pre-Buddhist Tibet. It explores the ancient Zhang Zhung kingdon and Bon religion that preceded the advent of Buddhism in the seventh century. Examining Zhang Zhung's written language, sacred ornaments, rock carvings, healing practices, music and magical divination techniques, Norbu contributes to an understanding of the roots of Tibetan Buddhist culture and modern-day Bon religion.
About the Author
Born in Eastern Tibet in 1938, CHOGYAL NAMKHAI NORBU is an internationally known Dzogchen Buddhist teacher and author. The direct descendant of the first Dzogchen Tibetan master of Tibet, Norbu is a former professor of Tibetan and Mongolian language and literature at the University of Naples L'Orientale. He is the founder of two nonprofit organizations including the Shang Shung Institute, which is dedicated to the preservation of Tibetan culture. The author lives in Arcidosso, Italy.
Praise For A History of Zhang Zhung and Tibet, Volume One: The Early Period…
"Chögyal Namkhai Norbu is one the foremost masters of Tibetan religions and recognized as a teacher and scholar. This book demonstrates his profound knowledge of Tibet's antiquity and shows the complex and sophisticated tradition of the Zhang Zhung civilization that flourished on the Tibetan plateau in ancient times."
—Tsering Shakya, PhD, Canadian research chair in religion and contemporary society in Asia at the Institute of Asian Research, University of British Columbia

"Scholars and students of early Tibet will welcome the publication in English of this first volume of Chögyal Namkhai Norbu's trilogy on the history of Zhang Zhung and Tibet. Accurately and carefully translated by Donatella Rossi, this book draws on a wide range of Bon sources and chronicles that shed light on the creation mythology, geography, lineages, and cultural legacy of ancient Zhang Zhung."
—Gyurme Dorje, leading Tibetan scholar, translator, and author
 
"Using traditional sources in an original way, this work paints a fascinating picture of the history and culture of the Zhang Zhung kingdom of early Tibet."
—Sam van Schaik, PhD, Tibetologist and research project manager for the International Dunhuang Project (IDP) at the British Library

"For many of us in the academic community who have been trying to keep a pulse on the phenomenon of Zhang Zhung, it's a relief that scholarly opinion is finally starting to shift from the previously standard view that the period of Songtsen Gampo's reign – when Buddhism was beginning to be introduced – defines the roots of much of Tibetan culture. It is now fairly clear that, to the contrary, much of what makes Tibet "Tibetan" – for example, an emphasis on bardo rites; a cohesive, spiritual taxonomy for transmissions of alphabets, scripts, and systems of writing; historically long-enduring divination practices; distinctive frameworks of medicine (including moxibustion); signature practices of fine arts; and even contemplative methods for dreaming – derives from the Zhang Zhung civilization."
—J.I. Abbot, Mandala 
Advertisement