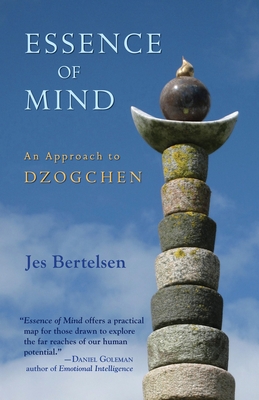 Essence of Mind
An Approach to Dzogchen
Paperback

* Individual store prices may vary.
Description
This handbook to spirituality gathers together Danish meditation teacher Jes Bertelsen's advice on training the mind through wordless prayer and meditation to realize the essence of consciousness. Bertelsen has been teaching philosophy and meditation since the early 1970s; in 1989, he met the Tibetan lama Tulku Urgyen Rinpoche, who authorized Jes Bertelsen to teach Dzogchen, and to do so using his own judgment as to the most appropriate way to assimilate these teachings into Western culture. Bertelsen's teachings are based on an experiential investigation of the nature of consciousness, using comparative analysis of Eastern and Western spiritual teachings and consciousness practices on a foundation of modern psychological, philosophical, and scientific approaches.

Essence of Mind outlines the author's experience and approach to Dzogchen, the natural primordial state of human consciousness that is timeless, pure, and untouched by suffering. The book is divided into three parts. The first part describes different methods for pointing out the essence of consciousness and the techniques related to them. The second part seeks to outline the key principles of a training system suited to Western students that can lead to realization. The final section outlines the significance of continuous exercises, and describes the way spiritual practice slowly permeates daily life, dreams, sleep, and eventually death. Through the mind-training process, the practitioner approaches an almost ecstatic state of completion, a luminous, blissful wakefulness in which the consciousness is also fully relaxed, not clinging to bliss or desiring ecstasy, but transparent and open.

Bertelsen emphasizes that while more advanced forms of spiritual training can only take place in a face-to-face, deeply engaged mutual process between teacher and student, books are useful as sources of inspiration, in particular to help review one's insights and refresh one's practice. Essence of Mind systematizes the experiences that occur along the spiritual path and helps students to refine, correct, and clarify their efforts; it is the author's hope that many students in the West will be able to benefit from his comparative approach to Dzogchen.
Praise For Essence of Mind: An Approach to Dzogchen…
"Jes Bertelsen belongs to the very, very small group of people who are true lineage-holders of Dzogchen, held by many to be the pinnacle of the Tibetan tradition of meditation. He was authorized to teach in his own way by his teacher, Tulku Urgyen, one of the most revered spiritual masters of the twentieth century. This way, as it is brilliantly presented in this book, is clear, warm, and completely modern. Bertelsen unites a breathtaking command of Western psychology and philosophy with deep meditative realization. Here is, at long last, a lineage-holder of Dzogchen, a certified great teacher and scholar, who in a down-to-earth fashion can explain, step by step, what it means to transcend the mind—and how it is done."
—Peter Hoeg, author of The Elephant Keeper's Children and Smilla's Sense of Snow

"Jes Bertelsen guides us to a fresh perspective on perspective itself, with this engaging exploration of a perennial truth: that our ordinary consciousness gives us a limited view of reality. He points out the possibility of an unconfined capacity in awareness, and how we might take this step beyond into a fully open, naked awareness.  Essence of Mind offers a practical map for those drawn to explore  the far reaches of our human potential."
—Daniel Goleman, author of Emotional Intelligence: Why It Can Matter More Than IQ

"Jes Bertelsen's words set the reader's mind streaming in the direction of transdual completeness. Simple and spellbinding, this is that rarest of books—a genuinely profound page-turner you don't want to put down. Its simple brilliance draws attention, not to itself, but to the reader's own essential mind."
—Anne C. Klein (Rigzin Drolma), professor of religious studies at Rice University and founding director of Dawn Mountain
North Atlantic Books, 9781583946152, 160pp.
Publication Date: June 4, 2013
About the Author
JES BERTELSEN (b. 1946) is a Danish spiritual teacher and author. He is the leader of the Vækstcenter (Growth Center) in Nørre Snede in Denmark. He has a PhD in the History of Ideas from Aarhus University, Denmark, where he also taught for more than a decade. He has written 20 books in Danish ranging from a thesis on Kierkegaard, through books on self-development and depth psychology, to the advanced meditation texts of later years. His teaching and his later books are based on a systematic experiential investigation of the nature of consciousness, using comparative analyses of Eastern and Western consciousness practices, as well as modern psychological, philosophical, and scientific approaches.

His latest offerings are (2008) Bevidsthedens flydende lys: Betragtninger over begrebet apperception hos Immanuel Kant og Longchenpa (The Flowing Light of Consciousness: Reflections on the Concept of Apperception in Immanuel Kant and Longchenpa) and (2009) a research article published in the science magazine NeuroReport, "Long-term meditation is associated with increased gray matter density in the brain stem" (coauthored with Peter Vestergaard-Poulsen, Martijn van Beek, Joshua Skewes, Carsten R. Bjarkam, Michael Stubberup, and Andreas Roepstorf).
or
Not Currently Available for Direct Purchase