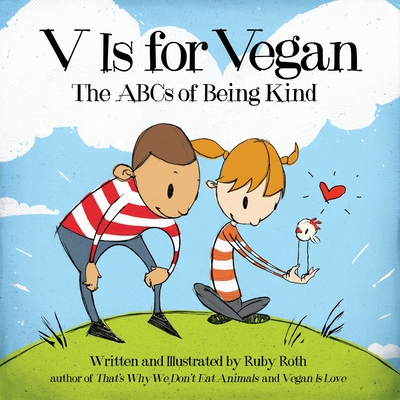 V Is for Vegan
The ABCs of Being Kind
Hardcover

* Individual store prices may vary.
Description
Introducing three- to seven-year-olds to the "ABCs" of a compassionate lifestyle, V Is for Vegan is a must-have for vegan and vegetarian parents, teachers, and activists! Acclaimed author and artist Ruby Roth brings her characteristic insight and good humor to a controversial and challenging subject, presenting the basics of animal rights and the vegan diet in an easy-to-understand, teachable format. Through memorable rhymes and charming illustrations, Roth introduces readers to the major vegan food groups (grains, beans, seeds, nuts, vegetables, and fruits) as well as broader concepts such as animal protection and the environment. Sure to bring about laughter and learning, V Is for Vegan will boost the confidence of vegan kids about to enter school and help adults explain their ethical worldview in a way that young children will understand.
Praise For V Is for Vegan: The ABCs of Being Kind…
"Move over, Shel Silverstein and Dr. Seuss! Make some room on the bookshelf for a new, welcome series of children's books that teaches "the ABCs of being kind"—both to animals and to our planet. From Ruby Roth, the author-illlustrator of the much-loved That's Why We Don't Eat Animals and Vegan Is Love, comes the just-released V Is for Vegan, an uplifting and educational picture book that introduces young readers to animal rights, environmental issues, and the virtues of a plant-based diet."
—Vegetarian Times

"Ruby Roth has done it again. Never has being vegan been more beautifully illustrated than in V Is for Vegan. Roth's clarity, directness, and creative intelligence come through with every letter. This is a must-have for every vegan, especially those of us who are raising vegan children to know the simple and elegant power of our choices."
—Mayim Bialik, PhD, Emmy-nominated actress, neuroscientist, author, and mom

"What an enchanting and perfect little gem! This will be a long-time best seller among the ever-growing population of vegans—and their friends! I'm buying them in bulk for baby shower gifts."
—Rory Freedman, best-selling author of Skinny B*tch
 
"A one-of-a-kind resource for the youngest in a growing demographic, V Is for Vegan offers families a fun and simple way to build and bond over a foundation of compassion and understanding."
—Dr. Jenn Berman, MFT, PsyD, author of The A to Z Guide to Raising Happy, Confident Kids

"Funny, informative, and inspiring, V Is for Vegan will give already vegan kids a sense of pride, confidence, and belonging and will give non-vegan kids and adults a better understanding and appreciation for this more peaceful, sustainable way of living. The timing couldn't be better, as more families are exploring vegan lifestyles and are looking for an accessible, entertaining way to share the hows and whys of veganism with their kids. I can't wait for my son to grow older so I can read it with him."
—Marisa Miller Wolfson, writer and director of Vegucated
 
"Ruby Roth's ability to speak to children about important and serious issues regarding animals is unmatched. Ruby's books are creating a new generation of children guided by compassion and empathy for those who have no voice."
—Gary Smith, Evolotus PR
 
"V Is for Vegan is the perfect tool for teaching children about compassion and having a positive impact on the world while making it fun. Her artistry will engage your kids, make them giggle, and empower them all at once."
—Heather Lounsbury, L.Ac., author of Fixing It With Food

"V Is For Vegan strikes a fantastic balance between colorful, heartwarming illustrations and whimsical, conscious poetry. It gently and jovially delivers messages of kindness and compassion that all children can understand and embrace. It's the perfect introduction to veganism for kids."
—Jason Wrobel, celebrity vegan chef and host of How to Live to 100 on Cooking Channel

"Ruby Roth's books provide an absolute treasure trove of insight and motivation for readers of all ages. Her books are a joy to experience, conveying their kind, wise message in words and drawings that touch your heart, soul, and spirit. My daughter has chosen to give V Is for Vegan to every one of her friends this holiday season. I can't think of a better gift."
—Dr. Doug Graham, author of The 80/10/10 Diet

"Profound in its mission and a joy in its simplicity, V Is for Vegan will help raise a new generation with social and environmental awareness! Roth's books offer an easy way to start the conversation early."
—Ani Phyo, author of Ani's Raw Food Kitchen

"[Roth] shares the ABCs of veganism, approaching the topic with enthusiasm and humor."
—Publishers Weekly

"Let's hope this book shows up in all local libraries!"
—Vegetarian Journal

"V Is for Vegan addresses veggie issues in a fun and lighthearted way. Explaining sensitive animal issues to children is always difficult, but Ruby has such a wonderful way with words that broaching the fundamental ideas behind veganism and how we treat animals is much easier. This book is a thought provoking read that can be used as a vehicle for social change in efforts to spread the message of love and compassion on behalf of all our animal friends."
—Care2.com

"Ruby Roth has put together an adorable ABC-style rhyming book that will introduce your little herbivore to the major vegan food groups as well as the ways we can protect animals and the environment. The illustrations are adorable and funny and the content is colorful and exciting for little eyes."
—VegFamily

"I would not hesitate to recommend this book to anyone looking to show children (or adults!) what living a compassionate lifestyle is all about."
—Amanda Lily Grant, reviewer at T.O.F.U. Magazine

"The book takes a gentle, educational and humorous approach to teaching kids the alphabet within the context of compassionate, healthy and sustainable living. … Positive and empowering"
—Evolving Wellness

"V is for Vegan is a really good book for toddlers. It addresses healthy eating by talking about legumes, nuts, grains, veggies, fruits, oil, and seeds. It also touches lightly upon vegan issues including zoos, clothing, shelters, and animal testing in an age-appropriate way. If you are raising vegan kids, definitely pick up a copy of this book for your collection."
—VegBooks
North Atlantic Books, 9781583946497, 32pp.
Publication Date: August 6, 2013
About the Author
Ruby Roth is an acclaimed activist, artist, former teacher, and author whose children's books have been featured in the San Francisco Chronicle, The Huffington Post, The Washington Times, Change.org, Glamour, and Wired as well as on The Today Show, FOX, ABC, CNN, and other major media outlets. She first discovered children's interest in veganism while teaching art at an elementary school. Complementing her degrees in art and American studies, she has researched animal agriculture, health, nutrition, and the benefits of a plant-based diet for nearly a decade. Her first book, That's Why We Don't Eat Animals, was published in 2009. A vegan since 2003, she lives in Los Angeles.