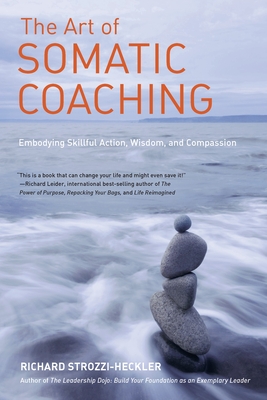 The Art of Somatic Coaching
Embodying Skillful Action, Wisdom, and Compassion
Paperback

* Individual store prices may vary.
Other Editions of This Title:
Digital Audiobook (8/10/2020)
Description
The Art of Somatic Coaching introduces the concepts and principles of coaching with practices that include body awareness, bodywork, and mindfulness for both the coach and the client. Author and expert coach, Richard Strozzi-Heckler, PhD, explains that in order to achieve truly sustainable changes in individuals, teams, and organizations, it is necessary to implement body-oriented somatic practices in order to dissolve habits, behaviors, and interpretations of the world that are no longer relevant. He explains that these ways of being are integrated in the body--at the level of the musculature, organs, and nervous system. By implementing a somatic approach, these patterns can be shifted in order for transformation to occur.
 
Opening with a discussion of the roots of Somatic Coaching, the book describes the emotional and physical cost of being distanced from our bodies. Originating from the rationalistic idea that the mind and body are separate, this sense of disconnection spurred the emergence of the field of somatics that views the body as not just a physiological entity, but as the center of our lived experience in the world. Out of this philosophy, Somatic Coaching was developed as a way to cultivate the self through the body.
 
Methods in this book include:
• Somatic awareness--becoming aware of sensations
• Somatic opening--includes bodywork to release held patterns in the body
• Somatic practices--meditation, movement, and being present in everyday life
 
The social context in which one is raised, the supportive, healing force of the outdoors and nature as well as acknowledgment of the spirit are also woven into the practice. Through these practices, a rhythm of unfolding occurs in what Strozzi-Heckler describes as an Arc of Transformation--moving in stages from conditioned tendencies to a new satisfying and fulfilling way of being that is fully embodied.
 
Contents: Introduction; Chapter One: A Short Distance but a Big Cost; Chapter Two: Coaching; Chapter Three: Somatics and Somatic Coaching; Chapter Four: The Methodology; Chapter Five: The Rhythm of Action; Chapter Six: The Somatic Arc of Transformation
Praise For The Art of Somatic Coaching: Embodying Skillful Action, Wisdom, and Compassion…
"This book without question is truly a Magnum Opus. With what seems to be a plethora of coaches popping up on Linkedin in and Twitter every day, I think this book over time will be seen as the sourcebook for what does and does not define someone as a 'coach'."
—Examiner.com

"This book introduces coaching principles that incorporate body awareness, bodywork, and mindfulness for both the client and coach. Key concepts presented are somatic awareness and somatic opening, becoming aware of sensations, releasing patterns in the body, meditation, movement, and being present in everyday life."
—Massage & Bodywork Magazine

"The definitive book on somatic coaching. Strozzi-Heckler 's wisdom and somatic mastery capture the mindset, mood, and methods that are essential to all coaches today. I feel changed and liberated after reading this book—more awake and moved to align my life and my coaching with my core. This is a book that can change your life and might even save it!"
—Richard Leider, international bestselling author of The Power of Purpose, Repacking Your Bags, and Life Reimagined
 
"This wise book presents an exciting new paradigm for coaching that delivers transformational results. After decades of teaching coaches and leaders, Richard Strozzi-Heckler has written a book that offers an inspiring—and practical—vision of how to make vital connections that link actions, emotions, thinking, and energetic states, opening up a world of possibilities. This is the must-read book for coaches and leaders who seek to integrate who they are with how they lead."
—Katherine Ebner, director of the Institute for Transformational Leadership, Georgetown University
 
"Richard Strozzi-Heckler has spent nearly half a century as one of the few agents of transformation who has succeeded in carrying his work and explorations far from quiet meditation halls and therapy offices and out into the borderlands with warriors and entrepreneurs. He illuminates the smallest, almost invisible ways in which the culture shapes people to live at a distance from the body, even when consciously embracing a unitary philosophy. He puts forward a model of somatic coaching with easy-to-implement strategies that seamlessly weave practices of sensitive attention, conversation, breathing, touch, movement, and gestures. This book is particularly unique in its breaking out of a model of transformation that tends to be too narrowly focused on individuals and small groups, rather than the very large populations which have the major role in shaping the world."
—Don Hanlon Johnson, PhD, founder of the Somatic Psychotherapy graduate degree program at California Institute of Integral Studies and author of Everyday Hopes, Utopian Dreams: Reflections on American Ideals
 
"Rarely do we meet genuine embodied human wisdom as we do in this book. Such wisdom, cultivated over years of intentional practice and directed by a compassionate heart, shows us a clear path toward greater freedom, meaning, and belonging. Richard Strozzi–Heckler transmits this wisdom powerfully into our own bodies, hearts and minds, awakening confidence, curiosity and commitment. The Art of Somatic Coaching overflows with distinctions, exercises, and cogent examples. It's inviting and inspiring, vitally practical, and a treasure trove for all of us dedicated to listening to human suffering. A sparkling jewel brought to us by a living treasure."
—James Flaherty, MCC, founder of New Ventures West and Integral Coaching, author of Coaching: Evoking Excellence in Others
 
"Strozzi-Heckler's latest contribution to the field of coaching emphasizes the essential work of cultivating the self—an embodied presence—as central to the development of the coach and key in the journey to mastery. A must read for coaches dedicated to transformational change in self, others and our world!"
—Pamela McLean, PhD and CEO, Hudson Institute of Coaching
 
"The dominant epistemology of our times reduces learning and knowing fundamentally to exercises of a disembodied intellect. This way of knowing is at the heart of the huge crises humanity is facing right now. Coaching was born as a reaction to that epistemology in order to take care of those issues. A deep and lasting transformational learning requires in each of us a shift of the dynamic coherence of our linguistic, emotional and somatic being. Few people today understand and practice the somatic side of coaching as Richard Strozzi-Heckler does. In this book, the reader will find a dimension of the art of learning that is simply an inspiration."
—Julio Olalla, president, The Newfield Network
North Atlantic Books, 9781583946732, 192pp.
Publication Date: February 11, 2014
About the Author
Named one of the top fifty executive coaches worldwide in the landmark resource The Art and Practice of Leadership Coaching, RICHARD STROZZI-HECKLER, PhD, an internationally known speaker, coach, and consultant on leadership and mastery, is the president of the Strozzi Institute, which offers consulting and coaching services to individuals and companies on five continents. Over the past forty years he has coached thousands of individuals from Fortune 500 companies, NGOs, technology start-ups, nonprofits, the U.S. government, and the military.
or
Not Currently Available for Direct Purchase