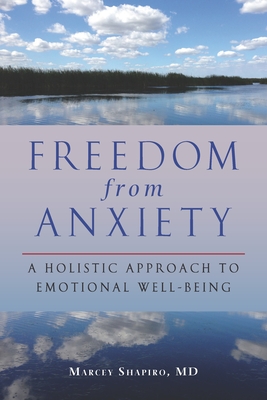 Freedom from Anxiety
A Holistic Approach to Emotional Well-Being
Paperback

* Individual store prices may vary.
Description
This book presents hundreds of safe, practical, and effective tools and techniques to alleviate anxiety, an epidemic that affects nearly 20 percent of Americans. Author and seasoned physician Marcey Shapiro, MD, shares how her personal struggle with this widespread syndrome led her to discover that there is not one treatment program that works for everyone and provides a wide range of integrative methods that will help readers find real and transformative relief.

Dr. Shapiro grappled with anxiety on her own path to greater health and wholeness and observed, through her personal experience and that of treating numerous patients who suffer from the heartache and despair that anxiety causes, that finding peace involves a spiritual journey of self-awareness and self-acceptance. She has successfully helped herself and her patients bring ease and peace of mind back into their lives using a diverse assortment of complementary techniques, including dietary changes, visualizations, shifting thoughts, breathing techniques, nutritional supplements, herbs, homeopathy, bodywork, aromatherapy, flower essences, and acupuncture, as well as more commonplace Western techniques such as medication and therapy, when appropriate.

Offering a variety of nondogmatic, empowering tools for enhancing personal growth, Freedom from Anxiety will help anxiety sufferers find ways, many of them free or very low cost, to achieve immediate relief as well as long term care and treatment. It can be read from cover to cover or perused for specific problems or solutions. Readers are able to take advantage of Dr. Shapiro's vast knowledge and research as well as her engaging personal anecdotes and those from her decades of clinical practice.
Praise For Freedom from Anxiety: A Holistic Approach to Emotional Well-Being…
"Freedom from Anxiety is an amazing resource. Reading it is like having a wise friend at your side through life's tougher moments. Marcey Shapiro is full of truly helpful suggestions that are immensely practical, grounded in lived experience, and rooted in the timeless healing wisdom of many spiritual and healing traditions. Her broad-minded and flexible perspective is especially welcome, and I am hard-pressed to think of anyone that wouldn't benefit from the contents of this wonderful book."
—Jessica Prentice, author of Full Moon Feast: Food and the Hunger for Connection
 
"Hands down the best book ever written on the topic of anxiety. The combination of simple techniques, biomedical awareness, and nutritional guidance, creates a tool that lovingly holds the reader's hand and gently navigates to an understanding of how to avoid and pivot away from anxiety. A tool I will use again and again as it has found a permanent position on my nightstand."
—Betsy Hicks, author of Picky Eating Solutions
 
"[This book] is a multifaceted jewel—an extraordinary collection of healing approaches offered to assist one in achieving relief from anxiety. Its breadth and depth provide a unified, inspiring, and immensely practical new paradigm for how emotional well-being can be realized. Marcey Shaprio's exploration of anxiety includes its spiritual and emotional roots as well as insights from her personal journey toward relief. By identifying a wide range of possibilities for practice that are life-giving, she sets the reader to underlining words and turning down page corners to mark passages that have personal resonance. A must-read for anyone seeking to understand the pursuit and realization of more ease and joy in their experience."
—Joanne Lauck Hobbs author of The Voice of the Infinite in the Small
 
"Freedom from Anxiety is an amazing journey through the 'minefield' of anxiety. An extensive overview with both general and specific suggestions, it addresses this widespread syndrome from all levels: physical, emotional and spiritual. A holistic approach in the fullest sense of the tradition, this book provides a calming pathway with possible strategies and practical applications for the majority of sufferers. A must-read for every physician who is dealing with patients suffering from anxiety.
—John H. Hicks III, MD
 
"Accolades to Marcey Shapiro! As a dedicated healer and visionary, she has created an incredible treasure chest of practices and techniques that take us straight into the heart of healing. Rather than feeling we're at the mercy of anxiety, we can empower ourselves by learning to use our emotions as our essential guidance system, illuminating where we are aligned with our enlightened Self, our Spirit.  When we're struggling, our emotions serve as a signal that we've stepped out of the flow of our greater good. The journey of finding the 'gift in the wound' is rewarding beyond measure. It is one of awakening to our own magnificence, joy, balance, and harmony that is our true nature."
—Jill Lebeau, MFT, spiritual psychotherapist and coauthor of Feng Shui Your Mind: Four Easy Steps to Rapidly Transform Your Life! 

North Atlantic Books, 9781583946756, 360pp.
Publication Date: January 14, 2014
About the Author
MARCEY SHAPIRO, MD, is a family physician with extensive training and experience in many areas of natural medicine including Western and Chinese herbal medicine, acupuncture, flower essences, homeopathy, breathing techniques, nutritional therapies, Scenar®, and hands-on modalities such as Ortho-Bionomy® and Biodynamic Osteopathy. She works with patients to address the many facets of illness/imbalance--biophysical, psychological, and spiritual--and creates realistic treatment plans that incorporate a variety of modalities.
or
Not Currently Available for Direct Purchase