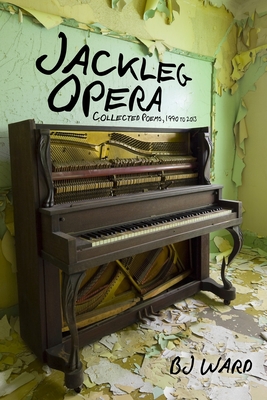 Jackleg Opera (Paperback)
Collected Poems, 1990 to 2013 (Io Poetry Series #7)
North Atlantic Books, 9781583946770, 272pp.
Publication Date: September 10, 2013
* Individual store prices may vary.
Description
BJ Ward, an award-winning poet whose poetry and essays have been featured on National Public Radio and in publications such as The Sun Magazine, TriQuarterly, The Literary Review, and the New York Times, has brought together in one volume the fruits of his labor spanning over twenty years. Winner of the 2014 Paterson Award for Literary Excellence, this rich collection of thoughtful and often ironic reflections reveals both the reverence and irreverence of human experience. Jackleg Opera contains material from Ward's three previous books Landing in New Jersey with Soft Hands, 17 Love Poems with No Despair, and Gravedigger's Birthday, as well as thirty-five new poems that are reminiscent of the clear simple style of Poet Laureate Billy Collins.

Under the Elm
We left the party, walked / beneath a moon that seemed / more a spotlight than night, / until we found a tree. / We pressed against it / and the grass rose against us, / the sky continued to darken, / and soon days, weeks, migrations, / and metamorphoses passed / as we kissed ourselves out / of our bored lives. / Us--two thousand miles away now, / the grass still growing wild around our feet.

"In poems that both honor and transcend his blue-collar roots, BJ Ward blends poignancy and humor with downright good storytelling, and takes his place among the brightest voices of his generation."--Stephen Dunn, winner of the 2001 Pulitzer Prize for Poetry
About the Author
The recipient of the Pushcart Prize for poetry and two distiguished artist fellowships from the New Jersey State Council on the Arts, BJ WARD has had his poetry featured on National Public Radio's "The Writer's Almanac," New Jersey Network's "State of the Arts," and the website Poetry Daily as well as in national publications such as Poetry, Green Mountains Review, The Sun Magazine, TriQuarterly, The Literary Review, and dozens of other journals. His essays have appeared in the New York Times, The Worcester Review, and Teaching Artist Journal.
Praise For Jackleg Opera: Collected Poems, 1990 to 2013 (Io Poetry Series #7)…
"And like all great poets, Ward lays bare his soul."
—Jacqueline Cutler, journalist and book reviewer for NJ.com

"A new voice: welcome it. BJ Ward's, with a new idiom, new accents, new rhythms. Speaking to and for a new generation.… This is where it's at now, he says, and he's right. Singing and squawking. It's beautiful to hear, encouraging to see."
—Hayden Carruth, award-winning poet and literary critic

"In the chaos of my library I have my top book shelf of about thirty books of contemporary poets that I find jumpstart me when I have trouble writing. This book is on there. BJ Ward is part of my generation of poets (born in 1965 or after), but he has somehow fallen through the seams. He should be present in the canon forming anthologies but isn't. This is a shame … The honest and seemingly simple texture and metaphor of his poems offer us much to help us live our lives."
—Sean Thomas Dougherty, poet and author of nine books including Nightshift Belonging to Lorca

"In poems that both honor and transcend his blue collar roots, BJ Ward blends poignancy and humor with downright good story telling, and takes his place among the bright up-and-coming voices of his generation."
—Stephen Dunn, poet and author of Different Hours, winner of the Pulitzer Prize for Poetry

"BJ Ward knows about keeping the soul's song alive against the things that hold down the sons of the world, including the sons who must forgive and the fathers who must reinvent themselves. These poems ache with the love of women, a delight in language, and a surety that self can be soldered out of the rebar and remnants of a closely observed internal landscape, one colored not so much with elegy, but 'what might be called generosity.' These poems have a humor that can be owned only after close attention to pain, giving way to a kind of heroic grace." 
—Laura McCullough, poet and author of Panic, winner of the Kinereth Gensler Award
or
Not Currently Available for Direct Purchase