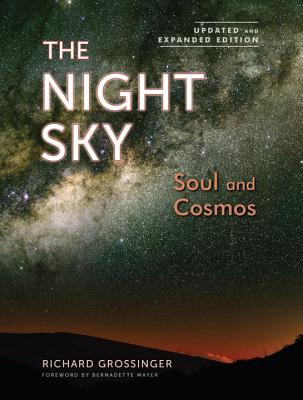 The Night Sky, Updated and Expanded Edition
Soul and Cosmos: The Physics and Metaphysics of the Stars and Planets
Paperback

* Individual store prices may vary.
Description
Ever since Homo sapiens first looked up at the stars, we as a species have been looking for meaning in the mysteries of the night sky. Over the millennia, as our knowledge, science, and technology developed, the stories we told ourselves about the universe and our place in it developed as well. In The Night Sky, Richard Grossinger traces those developments, covering multiple aspects of humanity's complex relationship to the cosmos. Covering not only astronomy but also cosmology, cosmogony, astrology, and science fiction, he offers us a revelatory look at the firmament through his own telescope, fitted with an anthropological lens.

Throughout his explorations, Grossinger continually reflects on the deeper meaning of our changing concepts about the universe and creation, offering insight into how each new discovery causes us to redefine the values, moralities, and aesthetics by which we live. He also calls into question the self-aggrandizing notion that humanity can and will conquer all, and injects our strident confidence in science with a healthy dose of humility and wonder. Filled with poetic observation and profound questions, The Night Sky is a brilliant reflection of humanity's relationship with the cosmos--a relationship fed by longing, doubt, and awe.
Praise For The Night Sky, Updated and Expanded Edition: Soul and Cosmos: The Physics and Metaphysics of the Stars and Planets…
"Richard Grossinger's new book The Night Sky should be heralded as the publishing event of the decade for its power to change your relationship to the universe. To understand its vision, one needs to open up the soul in ways that have been forgotten, ignored, and even explicitly oppressed by Western civilization for over four hundred years now.

"You will have a wide range of experiences as you read. Sometimes you will be thrilled by energies and structures of cutting-edge astronomy which are presented here with great clarity, sometimes you simply marvel at how much our contemporary sciences have discovered, sometimes you will be confused by the wide range of experiences and interpretations offered, sometimes you will argue against the vision in this book, sometimes you will argue for it; but most of all you will find yourself exploding with new ideas: your own fresh ideas sparked by your interaction with a profound work that serendipity has placed in your hands."
—Brian Thomas Swimme
Program in Philosophy, Cosmology, and Consciousness
California Institute of Integral Studies

"Ideas and concepts that are all too often—and all too easily— elevated to the level of literally and ethically untouchable principles appear here as 'experimental axioms,' metaphysical instruments for exploring a Real which remains perfectly mysterious from start to finish. Too many theosophical writers transcendentalize—and thereby absolutize—their models; in building their metaphysical otherworlds, they end up stifling rather than freeing the flow of creative forces in this world, this life. Grossinger builds psychic models without turning them into moral cages. Such, I think, is the key to reviving a truly creative spirituality in this millennium."
—J. F. Martel, author of Reclaiming Art in the Age of Artifice

"A superb examination, geared to the layperson, of the science and anthropology of the stars and planets."
—New Age Journal

"Ingenious metaphysical and philosophical ideas."
—Publishers Weekly
North Atlantic Books, 9781583947104, 840pp.
Publication Date: September 30, 2014
About the Author
Since the issuing of Solar Journal: Oecological Sections by Black Sparrow Press in 1970, RICHARD GROSSINGER (richardgrossinger.com) has published some 35 books, most of them with his own press, North Atlantic Books, but also titles with Harper, Doubleday, Sierra Club Books, and J. P. Tarcher. These have ranged from long explorations of science, culture, and spirituality (Dark Pool of Light, Planet Medicine, Embryogenesis) to memoirs (New Moon) to experimental prose (Book of the Earth and Sky) and science fiction (Mars: A Science Fiction Vision). Grossinger received a PhD in anthropology from the University of Michigan in 1975 and lives with his wife Lindy Hough in Berkeley, California. The author lives in Berkeley, California.
or
Not Currently Available for Direct Purchase