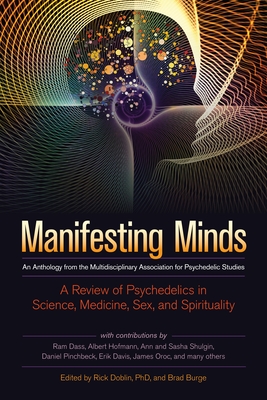 Manifesting Minds
A Review of Psychedelics in Science, Medicine, Sex, and Spirituality
Paperback

* Individual store prices may vary.
Description
Featuring essays and interviews with Timothy Leary, Aldous Huxley, Ram Dass, Albert Hofmann, Alexander (Sasha) Shulgin, Daniel Pinchbeck, Tim Robbins, Arne Naess, and electronic musician Simon Posford, as well as groundbreaking research and personal accounts, this one-of-a-kind anthology is a "best of" collection of articles and essays published by the Multidisciplinary Association for Psychedelic Studies (MAPS). Topics include the healing use of marijuana and psychedelics--including MDMA, ibogaine, LSD, and ayahuasca--for PTSD, anxiety, depression, and drug addiction, as well as positive effects of these substances in the realm of the arts, family, spirituality, ecology, and technology.

Among many other thought-provoking and mind-opening pieces are the following:
• "On Leary and Drugs at the End," by Carol Rosen and Vicki Marshall
• "Psychedelic Rites of Passage," by Ram Dass
• "To Be Read at the Funeral," by Albert Hofmann
• "Another Green World: Psychedelics and Ecology," by Daniel Pinchbeck
• "Psychedelics and Species Connectedness," by Stanley Krippner, PhD
• "Huxley on Drugs and Creativity," by Aldous Huxley
• "Psychedelics and the Deep Ecology Movement: A Conversation with Arne Naess," by Mark A. Schroll, PhD, and David Rothenberg
• "Psychedelic Sensibility," by Tom Robbins
• "Electronic Music and Psychedelics: An Interview with Simon Posford of Shpongle," by David Jay Brown
• "How Psychedelics Informed My Sex Life and Sex Work," by Annie Sprinkle
• "Consideration of Ayahuasca for the Treatment of Posttraumatic Stress Disorder," by Jessica Nielson, PhD, and Julie Megler, MSN, NP-BC
• "Psychedelics and Extreme Sports," by James Oroc
• "Youth and Entheogens: A Modern Rite of Passage?," by Andrei Foldes with Amba, Eric Johnson, et al.
• "Diary of an MDMA Subject," by Anonymous
• "Dimethyltryptamine: Possible Endogenous Ligand of the Sigma-1 Receptor?," by Adam L. Halberstadt
• "Lessons from Psychedelic Therapy," by Richard Yensen, PhD
• "Psychosomatic Medicine, Psychoneuroimmunology, and Psychedelics," by Ana Maqueda
• "Talking with Ann and Sasha Shulgin about the Existence of God and the Pleasures of Sex and Drugs," by Jon Hanna and Silvia Thyssen
Praise For Manifesting Minds: A Review of Psychedelics in Science, Medicine, Sex, and Spirituality…
"A refreshing change to read something that openly challenges entrenched opinions on a very contentious topic. A highly recommended read." --Peter J. Morris, alternative writer, research, and blogger

"During the decades when society has generally been barred from the careful and legal use of pure psychedelics, MAPS has supported research in the U.S. and elsewhere on the use of mindful molecules in the treatment for example, of post traumatic stress disorder and anxiety about dying from a disease such as cancer." --Craig Comstock, co-author of Sanctions for Evil: Sources of Social Destructiveness

"As psychedelics move from taboo subject to trendy topic, and as mainstream media outlets excitedly cover new psychedelic research, this collection of serious and highly readable articles is an especially wonderful gift. This is a must-have anthology for its amazing diversity and valuable content." --James Fadiman, PhD, researcher and author of The Psychedelic Explorer's Guide: Safe, Therapeutic, and Sacred Journeys
 
"The pages of the MAPS Bulletin have always reached out to people from all cultures and persuasions to represent psychedelics' potential for medicine, cultural development, spirituality, and personal growth. And now we have this generous smorgasbord of Bulletin pieces gathered together to be enjoyed in a single volume. What an excellent book to courageously transmit psychedelic research into tomorrow." --Ben Sessa, MD, psychiatrist and psychedelic researcher

"The varieties of psychedelic experience are boundless and beyond words, but this enlightening anthology manages to map much of that ineffable territory. Thank you, MAPS, for helping us understand the science and the spirit that support this endless journey." --Don Lattin, journalist and author of The Harvard Psychedelic Club and Distilled Spirits
 
"A deep, exciting collection of brilliant minds sharing research, cosmologies, humor, and imagination centered on my favorite topics: psychedelics and consciousness. Fascinating reading!"--Carolyn "Mountain Girl" Garcia, loyal member of the Merry Pranksters
EVOLVER EDITIONS, 9781583947265, 304pp.
Publication Date: January 7, 2014
About the Author
RICK DOBLIN, PhD, is the founder and executive director of Multidisciplinary Association for Psychedelic Studies (MAPS), a nonprofit research and educational organization that develops medical, legal, and cultural contexts for people to benefit from the careful uses of psychedelics and marijuana. Its current research programs include MDMA-assisted psychotherapy and medical marijuana for PTSD, ibogaine and ayahuasca therapy for drug addiction, and LSD-assisted psychotherapy for anxiety associated with advanced-stage illness. MAPS also hosts international conferences and events that bring together researchers and students from all over the world.

BRAD BURGE is director of communications and marketing for the Multidisciplinary Association for Psychedelic Studies (MAPS). His graduate work focused on the political, scientific, and cultural changes required to make illicit drugs into legitimate medicines. In 2009, he presented his work on the history of the distinction between the recreational and medical use of drugs at the Critical Legal Studies conference at the University of Leicester in the UK.
or
Not Currently Available for Direct Purchase