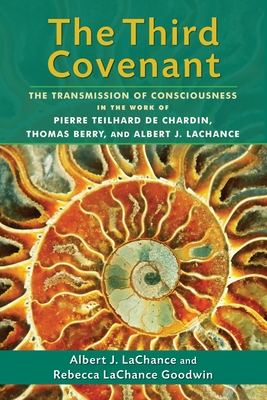 The Third Covenant
The Transmission of Consciousness in the Work of Pierre Teilhard de Chardin, Thomas Berry, and Albert J. LaChance
Paperback

* Individual store prices may vary.
Description
The Third Covenant explores the work of Pierre Teilhard de Chardin, Thomas Berry, and Albert LaChance, revealing through the lens of spirituality, science, and ecology, their understanding of human origin and evolution. Pierre Teilhard de Chardin, an early twentieth century geologist and priest, devoted his life as a scientist, clergyman, and mystic, to reuniting the artificial fracture between science and religion. Thomas Berry, a follower of Teilhard de Chardin and a highly respected cultural historian, furthered this reunification by repositioning the human in the unfolding of an evolving universe, integrated and interdependent with the rest of the life systems of the planet. Albert LaChance, himself a six-year, face-to-face student of Berry, brought this new paradigm into his work as a poet, psychologist, addiction recovery professional, and most importantly, as a mystic and scholar of religion. Along with his daughter, Rebecca LaChance Goodwin, LaChance explores the development of this crucial shift in human understanding and its implications for the future.

Parts I and II explore the elements of polarized thinking that makes us believe that we are separate from each other and the life systems of the planet. Thomas Berry's list of twelve principles for understanding the universe and the role of the human in the universe process describes the creative unfolding of our place in the universe. Part III introduces practical steps for achieving personal, familial, and cultural change. LaChance outlines his Twelve Steps of Ecological Spirituality to help us move from powerlessness and isolation to a state of reawakening to self, to humanity, to all species, to the planet, and to the universe.
North Atlantic Books, 9781583947395, 192pp.
Publication Date: July 8, 2014
About the Author
The author of several books on spirituality, psychology, ecology, and religion, ALBERT J. LACHANCE, PhD, spent six years in a one-on-one relationship with Thomas Berry at his Riverdale Center for Religious Research. For seventeen years he owned and operated Greenspirit: The Center for Counseling and Consciousness in Manchester, New Hampshire. He has counseled individuals, families, and groups, and has consulted with organizations regarding interpersonal dynamics.

A graduate of Harvard Divinity School with a Master's Degree in theological studies, REBECCA LACHANCE GOODWIN has taught and lectured on comparative religions at the high school and college levels. She has worked with Dr. LaChance for six years as a student of his work and as an editor and coauthor. She contributed the foreword to his most recent book The Way of Christ. The author lives in New Boston, New Hampshire.
or
Not Currently Available for Direct Purchase