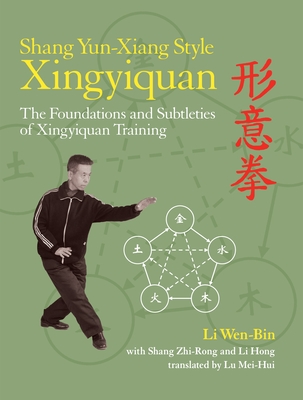 Shang Yun-Xiang Style Xingyiquan (Paperback)
The Foundations and Subtleties of Xingyiquan Training
Blue Snake Books, 9781583947593, 312pp.
Publication Date: November 18, 2014
* Individual store prices may vary.
Description
A modern classic, Shang Yun-Xiang Style Xingyiquan is essential for Xingyiquan practitioners and a useful guide for any practitioner of the Chinese martial arts. While focusing on Shang-style Xingyiquan (derived from author Li Wen-Bin's training under Grandmaster Shang Yun-Xiang), this book clearly breaks down the fundamentals of those movements and forms found in all of Xingyiquan (and other internal martial arts). Rather than simply presenting the traditional, often-cryptic poetry or "songs" to impart martial concepts, Li goes into great detail to explain to readers of all levels the finer points of Xingyi training. Featuring hundreds of original photographs and step-by-step explanation of movements, Shang Yun Xiang Style Xingyiquan is an excellent companion to Xingyiquan training of any style or school.

Table of Contents

Chapter 1 In Search of the Missing Points in the Origin of Xing Yi Quan Techniques
Chapter 2 Features of Shang Yun-Xiang Style Xing Yi Quan
Chapter 3 The Foundation for Xing Yi Gong Fu
Chapter 4 Wu Xing Quan 五行拳(Five Element Fist)
Chapter 5 Jin Tui Lian Huan Quan 进退连环拳 ( Advance & Retreat Linking Fist)
Chapter 6 Traditional Xing Yi Weapons
About the Author
LI WEN-BIN, the founder of Shang Pai Xingyiquan, was born in 1918. He began his martial arts training at the age of 8, and at 13 he began to learn Xingyi Quan and weapons from Grandmaster Shang Yun-Xiang. In 1996, the Chinese Martial Arts Association named him one of the top ten martial arts masters in the country; he passed away a year later, at the age of 80. SHANG ZHI-RONG is the daughter of Grandmaster Shang Yun-Xiang. LI HONG is the son of Li Wen-Bin and the lineage holder of second generation Shang Pai Xingyiquan. LU MEI-HUI was born into a martial arts family in Taiwan and has received lifelong training in the internal martial arts. She is the co-translator (with Master Chang Wu Na) of The Major Methods of Wudang Sword; she has also written a Xingyiquan curriculum for students in Taigu County, Shanxi Province, in China - the birthplace of Xingyiquan. She currently lives in Seattle, Washington. The author lives in China / Seattle, Washington.