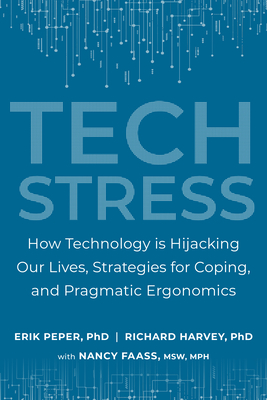 Tech Stress
How Technology is Hijacking Our Lives, Strategies for Coping, and Pragmatic Ergonomics
Paperback

* Individual store prices may vary.
Description
Re-envisioning your relationship with technology to reclaim health, happiness, and sanity in a plugged-in world

Evolution shapes behavior--and as a species, we've evolved to be drawn to the instant gratification, constant connectivity, and the shiny lights, beeps, and chimes of our ever-present devices. In earlier eras, these hardwired evolutionary patterns may have set us up for success, but today they confuse our instincts, leaving us vulnerable and stressed out from fractured attention, missed sleep, skipped meals, aches, pains, and exhaustion.

So how can we avoid the pitfalls programmed into modern technology use?

Tech Stress offers real, practical tools to avoid the evolutionary traps that trip us up and to address the problems associated with technology overuse. You will find a range of effective strategies and best practices to individualize your workspace (in the office and at home), reduce physical strain, prevent sore muscles, combat brain drain, and correct poor posture. The book also provides fresh insights on reducing stress and enhancing health.
Praise For Tech Stress: How Technology is Hijacking Our Lives, Strategies for Coping, and Pragmatic Ergonomics…
"This book is a must-read for anyone who spends time in front of a computer or using a mobile device. You will learn about the connection between posture and mood, the importance of movement breaks, and healthier ways to utilize technology in your everyday life."
—INNA KHAZAN, PHD, BCB, licensed clinical psychologist, faculty member at Harvard Medical School, and author of Biofeedback and Mindfulness in Everyday Life

"Once employers and employees understand and apply the concepts and tools within this book, they will never want to return to the monolithic ergonomic practices of the past."
—MICHAEL J. MARTIN, JD ARM, associate vice president of Human Resources, Safety and Risk Management at California State University Maritime Academy

"Peper, Harvey, and Faass detail not only how computer work injures us, but also how we can optimize our workspace and minimize the risk of musculoskeletal pain, fatigue, depression, and burnout."
—JONATHAN COLLIN, MD, founder and editor-in-chief of Townsend Letter

"In our digitally-dependent world, Tech Stress teaches us how to be human again, as we continue to evolve with technology."
WEIHONG BAO, PHD, author of Fiery Cinema and associate professor at UC Berkeley

"Tech Stress helps us recapture our physical and emotional well-being as it addresses the negative impacts in our technologically-altered world"
—LEROY M. MORISHITA, EDD, president at California State University, East Bay

"It's rare if not unheard of to find this level of applied wisdom on this topic in one place. Get this book, learn from it, and (most importantly) apply it!"
—JEFFERY A. MARTIN, PHD, founder of Transformative Technology and lecturer at Stanford University

"Tech Stress is years overdue. With this book, readers can find ways to foil the burdens of misapplied technology, embracing pleasure, happiness, and the appreciation of the very nature in which they are embedded, whether they realize it or not." 
—STANLEY KRIPPNER, PHD, coauthor of PTSD and coeditor of Integrative Care for the Traumatized

"A must-read for every 'stressed person!' An action plan in gaining ownership of our lives in the modern era by balance, awareness, and setting boundaries."
—ODED COHEN, CEO and founder of Upright® Technologies Ltd.

"Refreshingly clear and direct, Tech Stress offers much-needed explanations and scientifically backed advice on how to balance adapting our technology to our bodies and our bodies to our tech."
—DR. MARI K. SWINGLE, author of i-Minds and i-Minds 2.0

"Read Chapter 7. Then think twice about picking up your phone again."
—DEBORAH QUILTER, host of RSIHelp and author of The Repetitive Strain Injury Recovery Book 

"Brilliant!!! The time has come to wake up to the serious health damage of technological physical inactivity."
—C. NORMAN SHEALY, MD, PHD, founding president of American Holistic Medical Association and author of Conversations with G

North Atlantic Books, 9781583947685, 400pp.
Publication Date: August 25, 2020
About the Author
ERIK PEPER, PhD, is Professor of Holistic Health Studies at San Francisco State University and President of the Biofeedback Foundation of Europe. He received the 2004 California Governor's Safety Award for work on Healthy Computing. He's authored numerous scientific articles and books and was featured on ABCNews.com, GQ, Glamour, Men's Health, the San Francisco Chronicle, Shape, and Women's Health. RICHARD HARVEY, PHD, an associate professor in the Department of Health Education at San Francisco State University, served as president of the Association for Applied Psychophysiology and Biofeedback and the Western Association for Biofeedback and Neuroscience. He was recently honored in 2019 by the Biofeedback Federation of Europe's Biofeedback Educator Award. NANCY FAASS, MSW, MPH, founder and director of Health Writers' Group, is a writer and editor in San Francisco. For over twenty years, she has worked with clients to develop books, articles, and web content in the field of integrative medicine.